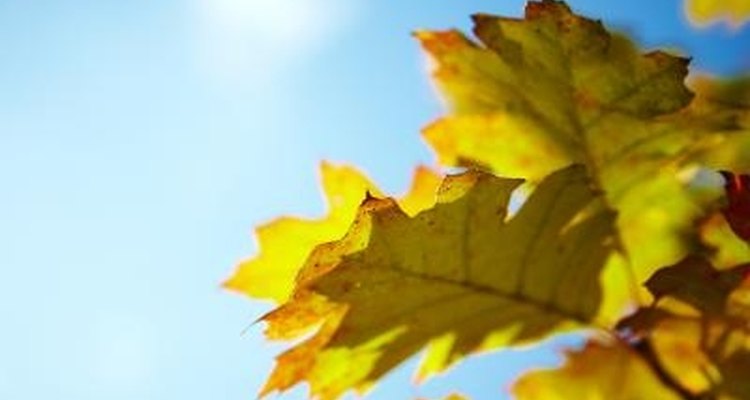 Thomas Northcut/Photodisc/Getty Images
Temperate, deciduous forests lend themselves to the same types of activities as other types of forest, such as mountain bike riding, horse-riding, fishing or picnicking, but the special charm of a deciduous forest is in the animals that live there and the trees that grow there.
Leaf Scavenger Hunt
Children will have the edge on their parents on a leaf-collecting scavenger hunt, because they are closer to the ground and have the sharp eyesight of youth, as well as being quick runners. If you are bringing your kids to the forest in fall (when the leaves are falling) or summer (when the leaves are green), you can prepare scavenger hint booklets in advance, listing 10 common and five rare descriptions of trees and their leaves. At the end of a walk through the woods, the family member with the best collection of leaves wins the scavenger hunt.
Deer Spotting
If the forest you visit has a white-tailed deer population, your older children might enjoy walking quietly through the woods to look for deer tracks or signs, and follow these signs, hopefully, to a herd of deer. According to the MacBeth's Cabin company in Cook Forest, Pennsylvania, the best time to spot deer is at dawn or dusk. If deer are not around, you can expand your search to other animals, such as gray squirrels or birds.
Leaf Litter Bug Hunt
A non-squeamish family can spend hours of fun looking at the tiniest members of the deciduous forest, the insects. In fall, after the leaves fall from the trees, the leaf litter acts as a home and food source for insects. Bring collection jars and your family can compete in a scavenger hunt on a miniature scale, collecting beetles, millipedes, ants and centipedes with a pair of forceps. The family members can release the insects back into the forest afterward, or bring them home as tiny, creepy-crawly pets.
Photo Day Out
Armed with digital cameras, your family can spend a day out in a temperature deciduous forest capturing its beauty. Take pictures of the green trees in summer, the russets and oranges of the fallen leaves in fall, and the range of animals that live in the forest, such as deer, rat snakes, bank voles, hawks and squirrels. Using the Internet or other resources, you and your kids can figure out which plants or animals you photographed after you return home.
References
Writer Bio
Jillian O'Keeffe has been a freelance writer since 2009. Her work appears in regional Irish newspapers including "The Connacht Tribune" and the "Sentinel." O'Keeffe has a Master of Arts in journalism from the National University of Ireland, Galway and a Bachelor of Science in microbiology from University College Cork.
Photo Credits
Thomas Northcut/Photodisc/Getty Images