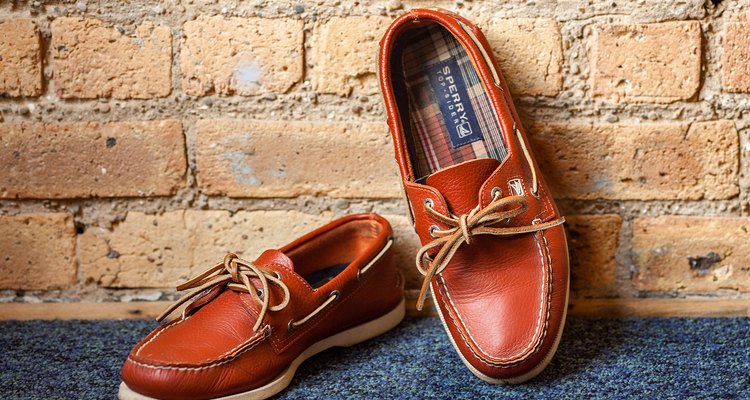 Dee Zhen/Demand Media
Sperry Top-Sider is a brand of shoes marketed as boat shoes. The soles are non-slip to handle wet surfaces and the top side of the shoe is water and stain resistant. Though originally designed for boat and dock wear, Sperry shoes have become popular fashion shoes due to their range of colors and styles. To enhance the style of your Sperry shoes you can change the way you tie the laces. There are dozens of ways to lace your Sperry shoes.
Traditional Lacing
Dee Zhen/Demand Media
The traditional lacing style can be a fashion statement in itself. Almost everyone is familiar with the criss-cross lacing method, where you simply cross the laces as you work up the shoe. The over and under method is also well known. It is like the criss-cross lacing method, except you thread the lacing from the top of the lacing eyelet down. Straight bar lacing is probably the third most common lacing method. In the bar method, you thread your shoe strings straight across, instead of diagonally, to create a look similar to a line of bars.
Decorative Lacing
Dee Zhen/Demand Media
Decorative lacing is for the times when you want your Sperry shoes to stand out. The ladder lacing method is used by military ceremonial guards. In the ladder lacing method, the laces are woven together to form what appears to be a secure ladder. In the lattice lacing method, your shoe strings are threaded diagonally and horizontal to create a pattern of diamonds. The starburst lacing method arranges the laces to meet in the middle to create an exploded star.
Knot Laces
Dee Zhen/Demand Media
Once you've chosen a lacing method it's time to choose a style of knot. You can go with a traditional bowtie knot. However, if you want something different, curl the top of your Sperry laces. Simply lace your Sperry shoes with whatever lacing method you prefer and curl the remainder of the lace into a tight spiral.
No Laces
Dee Zhen/Demand Media
Why deal with laces at all? There are several varieties of Sperry slip-on shoes that look fine without laces at all. Try lacing one of your Sperry shoes. Leave the opposite shoe unlaced. Compare the two side by side and decide which style suits you the best.
References
Writer Bio
Baptist Johnson was first published in 2000 when a poem he wrote won first prize in a local writing contest. He also writes and edits for Etched Press Society, a micro-publishing company based in Wilmington, N.C. Johnson has a Bachelor of Science in business administration from East Carolina University.
Photo Credits