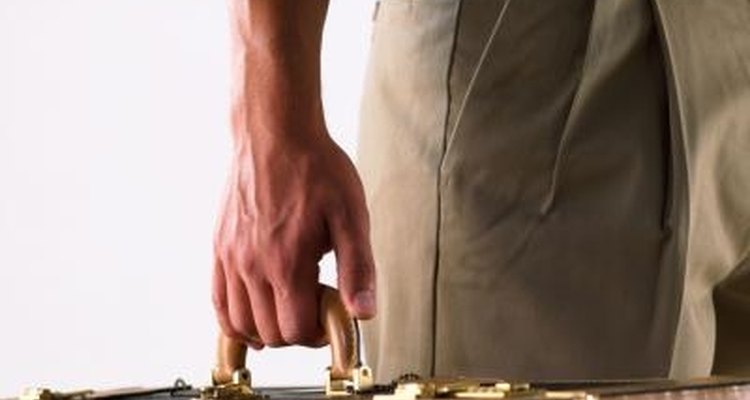 Brand X Pictures/Brand X Pictures/Getty Images
Meeting that special someone is enough to put a smile on anyone's face. The racing pulse, pounding heart and sweaty palms that accompany true love are all part of the excitement. As usual, however, every relationship comes with challenges as well. When you have a boyfriend that you're wild about, but who travels extensively for work, trust can be an issue. Spending extensive time apart can present challenges for both partners. When your boyfriend works out of town, it's important to implement a plan that helps you both deal with the situation.
Realize that time apart is part of the relationship. Instead of looking at it as a negative, see it as a positive. Take advantage of your alone time and enjoy your own interests when he's out of town. There's also no need to shave your legs, watch televisions shows or sporting events you do not enjoy, or frequent his favorite restaurant if it doesn't appeal to you.
Keep in touch with one another. Create a communication plan with him. Although he is working, he probably has time for a quick phone call, e-mail or text message. Don't demand huge chunks of time that he doesn't have, but make the most of and enjoy the communications you share while he's away.
Trust your boyfriend. Although it is easy to let your imagination run wild when your boyfriend is out of town, jealousy is a serious issue that can kill a relationship. If he's never given you a reason to mistrust him, put aside your doubts. If he has given you a reason to be suspicious, ask yourself what you are doing in such a relationship in the first place.
Behave in a trustworthy manner. Show your boyfriend that you're just as true and faithful when he's gone as you are when he's there.
Develop your own interests and hobbies. No boyfriend needs the pressure of a girlfriend who ceases to exist when he's gone. Develop an active life of your own, and you'll have plenty of interesting things to talk to him about when he gets home from work.
References
Writer Bio
Amie Taylor has been a writer since 2000. Book reviews, gardening and outdoor lawn equipment repair articles and short fiction account for a handful of her published works. Taylor gained her gardening and outdoor equipment repair experience from working in the landscaping and lawn-care business she and her husband own and operate.
Photo Credits
Brand X Pictures/Brand X Pictures/Getty Images