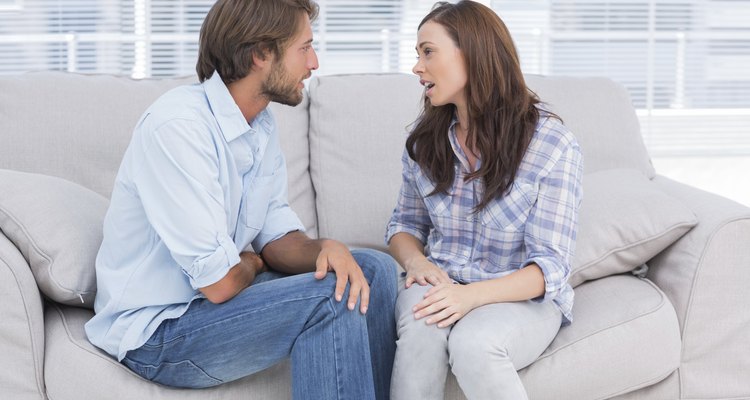 4774344sean/iStock/Getty Images
Rebuilding trust after you have cheated can take a long time -- give it your best shot by following the steps necessary to rebuild trust while acknowledging that the final choice to take you back is your boyfriend's. That puts the biggest responsibility for rekindling the relationship on your shoulders.
Make a clean break from the person you cheated with, counsels licensed professional counselor and relationship coach Kim Leatherdale in "Reconciling After an Affair - Three Mistakes the Cheater Makes" on her website. Tell him that it's over and you can't see him again. If you have classes or work together, consider making changes that don't allow you to meet again. If you can't sever all contact, keep it to a minimum and let your boyfriend know when you must be together.
Take responsibility for your part in the betrayal without laying the blame on your boyfriend, no matter how much you think his actions contributed to your betrayal. Realize that he needs to heal and that healing will take time as well as commitment on your part. Ask what it will take to rebuild trust. He might require you to let him know when you are going to be late or if you have to travel out of town with a male co-worker. Agree to whatever it takes to rebuild trust if you want to win him back.
Demonstrate your rehabilitation by consistently being honest with your boyfriend, suggests co-founder of Heartfelt Leadership Mark Goulston, M.D., in a "Psychology Today" article entitled "A Power Apology for Tiger - How to Rebuild Trust after Betrayal." Continue to apologize when your betrayal comes up. Avoid any situations that your boyfriend could interpret as another cheating relationship. Consistently let him know that you are committed to your relationship with him, suggests Senica Evans, women's relationship coach and certified behavioral analyst in the "Your Tango" article "5 Tips to Reconcile After Cheating."
Maintain clear communication with your boyfriend about your relationship with him. He needs to see that your relationship is a priority to you and that you have no desire to have a similar relationship with anyone else. Ask him for clear directives about what behaviors constitute cheating from his perspective. That might include having a soda with another guy, showing physical affection or have frequent texting or phone exchanges with someone he believes you are attracted to. Once you agree on what he considers cheating, avoid those behaviors.
References
Writer Bio
Rev. Kathryn Rateliff Barr has taught birth, parenting, vaccinations and alternative medicine classes since 1994. She is a pastoral family counselor and has parented birth, step, adopted and foster children. She holds bachelor's degrees in English and history from Centenary College of Louisiana. Studies include midwifery, naturopathy and other alternative therapies.
Photo Credits
4774344sean/iStock/Getty Images