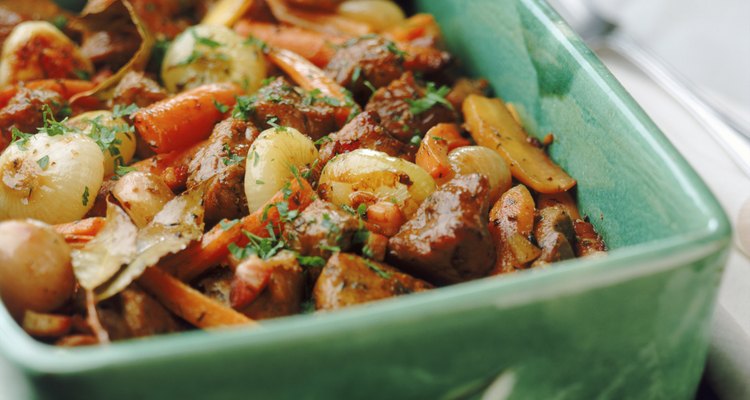 John Foxx/Stockbyte/Getty Images
It can be stressful getting dinner on the table on time for the members of your family, but cooking enough to feed a hungry crowd really turns up the pressure. Vegetable dishes are easy to pull off if you know the best options for preparing, seasoning and serving the tasty sides. A little prep work beforehand saves you lots of kitchen stress while you pull together an impressive spread without impressive effort.
Preparation Options
The right preparation method for cooking your vegetables allows you to cook large, varied quantities in a relatively short amount of time. Roasting vegetables is one of your simplest options. All you need to roast vegetables is a large roasting pan and enough space in your oven -- just slice, season, set the timer and prepare the rest of your meal. Grilling vegetables creates similar flavor and doesn't take up your oven space. Dedicate the whole top rack to a grilling tray filled with summer vegetables and capture signature smokey flavor. Another option is to use a slow cooker, though you'll need at least a 6-quart cooker to cook large quantities.
Simple Flavors
Roasted vegetables need little more than a splash of olive oil, salt and pepper, but you can experiment with herbs to create roasted vegetable dishes that impress guests. If you're pressed for time, mix up your olive oil with a packet of soup or dip mix, like onion, ranch, dill or tomato herb. The premixed herbs are well balanced and add unexpected flavor to your dishes. For grilled vegetables, stick to lighter, more citrus-based flavors so that the smoky grill flavor really shines through. If lemon and lime are too dull for you, spritz your vegetables with the juice from mangoes, oranges or even pineapple. Be sure to line your vegetable grill basket with foil to keep your burgers and hot dogs sauce-free.
Serving Suggestions
When you're serving up large quantities of vegetables, save time by cooking in the same pan that you'll serve from. For an informal gathering, inviting guests to scoop veggies directly from the roasting tray or slow cooker as part of a buffet line is your simplest option. If you're hosting a more formal sit-down dinner, the roasting tray might take up too much table space, so split the vegetables into two separate casserole dishes for each end of the table. Save time and simplify serving of grilled or roasted vegetables by cooking the vegetables on skewers; guests can grab a skewer for a perfectly portioned single serving. Provide an assortment of sauces and dips that complement the flavors of your vegetables. For hearty roasted vegetables, try a creamy Parmesan or blue cheese dressing. Serve a creamy balsamic or tomato dressing with sweet grilled vegetables.
Time Savers
Save time on hosting day by chopping all of your vegetables the day before. Store them separately in the refrigerator in plastic containers to keep them fresh and ready for cooking. Par boiling slow-cooking vegetables like carrots or potatoes will save you roasting or grilling time if you have the stove top space. Invite kids to help with tossing vegetables in olive oil or skewering cut vegetables so you can handle the more adult tasks. Cut down clean-up time by lining your roasting or grilling pans with aluminum foil so you don't have to spend the night scrubbing away; just peel up the foil and toss it away.
References
"Fearless Cooking for Crowds"; Michele Evans; 1986
"Cooking for Crowds"; John Duncan et al.; 2010
Writer Bio
Hannah Wahlig began writing and editing professionally in 2001. Her experience includes copy for newspapers, journals and magazines, as well as book editing. She is also a certified lactation counselor. She holds a Bachelor of Arts in English from Mount Holyoke College, and Master's degrees in education and community psychology from the University of Massachusetts.
Photo Credits
John Foxx/Stockbyte/Getty Images