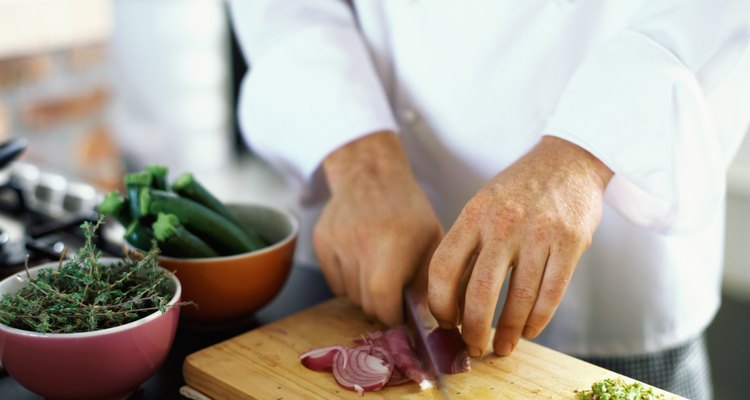 George Doyle/Stockbyte/Getty Images
Ribeye roasts require little attention as they cook, and they offer big rewards in flavor. Although they tend to be pricier than other roasts, ribeye roasts are worth the extra expense. These prime rib roasts come from the rear of the animal. They have rich, beefy flavor and enough fat to let you cook it medium-well without sacrificing tenderness. Add some potatoes and vegetables to the roasting pan while you're cooking the roast and you have a one-dish meal that's elegant enough to serve on a holiday, while still being easy enough to cook for a regular dinner.
Step 1
Select a ribeye roast with at least three bones, which will serve at least six people. If you're feeding a bigger crew, with 12 people or so, you'll need a five-bone roast or larger.
Step 2
Remove your ribeye roast from the refrigerator and turn your oven on, preheating it to 350 degrees Fahrenheit.
Step 3
Season the exterior of the roast, pressing the seasonings into the surface to help them adhere. Feel free to be as simple or creative as you'd like. You can simply season it with salt and black pepper, or amp up the flavor by adding herbs such as rosemary or parsley, dry mustard, garlic, onions or horseradish.
Step 4
Prepare your roasting pan by placing a rack in it and lightly brushing the rack with olive oil or cooking spray.
Step 5
Put the roast on the rack and place it in the oven. In the meantime, chop your vegetables and toss them in a large bowl with vegetable or olive oil and any seasonings you like. Again, you can keep it simple with just salt and pepper, or get a little creative with fresh herbs and seasonings.
Step 6
Let the roast cook for 30 to 45 minutes before adding the vegetables to the roasting pan. Continue cooking the veggies and roast for approximately one hour and 15 minutes.
Step 7
Insert a meat thermometer in the center of the roast. Remove the roast from the oven when the thermometer readers 135 degrees Fahrenheit for medium-rare meat or 150 degrees Fahrenheit for medium.
Step 8
Transfer the roast to a carving board and tent with aluminum foil. Let the roast rest and put the vegetables back in the oven for about 15 minutes, or until they are tender. Once they are tender, remove them from the oven.
Step 9
Carve the ribeye roast and serve with your roasted vegetables.
References
The Great Meat Cookbook; Bruce Aidells
The Big Book of Low-Carb; Kitty Broihier and Kimberly Mayone
Tips
Create a sweet-tart glaze for your roast by combining balsamic vinegar, dry red wine and dark brown sugar in a heavy-bottomed saucepan. Turn the stove on, setting it to medium heat, and bring the liquid to a boil. Let it simmer until the sugar is dissolved and the liquid has a syrupy consistency. Drizzle lightly over your sliced meat before serving.
Wash your hands, utensils, cutting boards and any other surfaces that come in contact with raw beef to avoid spreading possible contaminants.
Writer Bio
Caryn Anderson combines extensive behind-the-scenes writing experience with her passion for all things food, fashion, garden and travel. Bitten by the travel bug at the age of 15 after a trip to Europe, Anderson fostered her love of style and fashion while living in New York City and earning her degree at New York University.
Photo Credits
George Doyle/Stockbyte/Getty Images