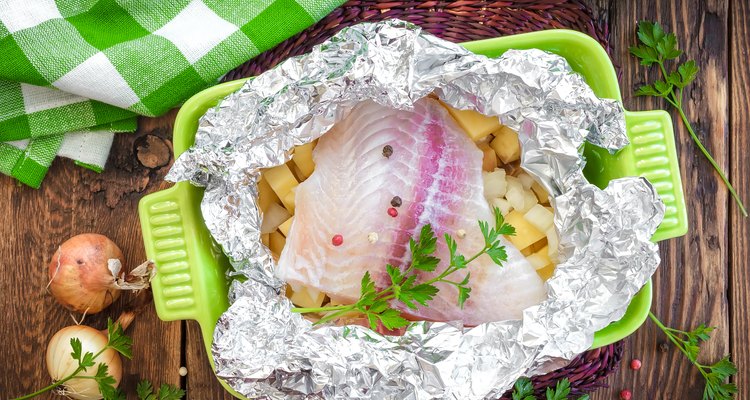 YelenaYemchuk/iStock/GettyImages
Baking fish in packets is a simple method that produces moist, flavorful fish every time. The foil packet traps in the steam, allowing the fish to become infused with the flavors of anything in the packet. This dish is endlessly customizable. Simply add your favorite flavorful ingredients to create a meal perfectly suited to your tastes. Cook vegetables in the packet alongside the fish for an easy, complete meal. The dish only requires about 20 minutes to bake, ideal for a quick weeknight dinner.
Preheat your oven to 375 degrees Fahrenheit.
Lay out one sheet of heavy-duty aluminum foil for each piece of halibut. If you don't have heavy-duty foil, stack two pieces of regular foil on top of each other.
Lay sliced vegetables in the center of the foil sheets, if you wish. Try spinach, zucchini, bell peppers or onions. Aromatics such as thinly sliced garlic, ginger, lemon slices and sprigs of fresh herbs add a punch of flavor to the dish. Drizzle the vegetables with olive oil, then season with salt and pepper. If you're not using any vegetables or aromatics, lightly grease the foil with oil.
Season the fish with salt and pepper on both sides. If you wish, sprinkle the halibut with any dried herbs and spices you enjoy such as garlic powder, cayenne pepper or parsley. Arrange the halibut on top of any vegetables, or lay it in the center of the foil if you aren't using vegetables.
Close the foil on top and both ends, rolling the edges over several times to create a tight seal.
Place the packets on a baking sheet and transfer to the oven. Bake until the fish is opaque and flakes easily with a fork, about 20 minutes for 6-ounce fillets. Open carefully; hot steam escapes when opening the foil packets.
References
Resources
Warnings
The U.S. Department of Agriculture recommends cooking all fish to a minimum internal temperature of 145 F to ensure safe consumption.
Writer Bio
Irena Eaves began writing professionally in 2005. She has been published on several websites including RedPlum, CollegeDegreeReport.com and AutoInsuranceTips.com. Eaves holds a Bachelor of Science in journalism from Boston University.