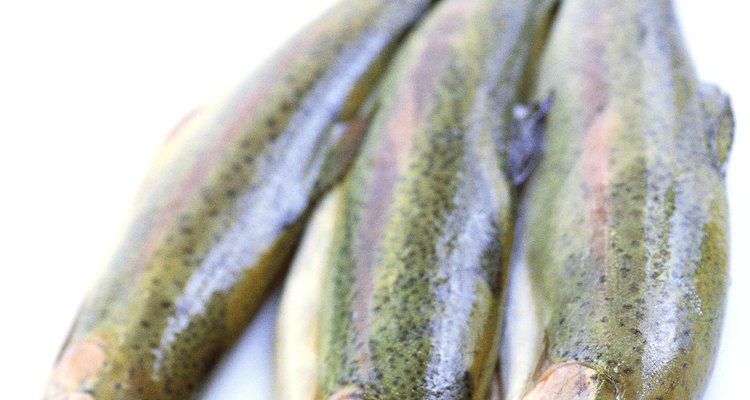 Stockbyte/Stockbyte/Getty Images
Trout is a mild white freshwater fish that is a cinch to prepare for even the pickiest palates. It's high in omega 3s and easy on the environment, making farmed U.S. trout a top choice for conscientious consumers, according to the Monterey Bay Aquarium's Seafood Watch List. Individual pouches of steamed trout in foil make a simple yet impressive dinner entree. Prepare them on the grill or in the oven.
Step 1
Preheat the oven to 450 degrees Fahrenheit or the grill to medium.
Step 2
Cut two pieces of foil per fillet, each cut bigger than the fish by at least 3 inches on all sides. If the fillet is very large, lay it diagonally across the foil and cut the foil to size.
Step 3
Brush one piece of foil with melted butter or oil. Center the fillet on the greased piece of foil.
Step 4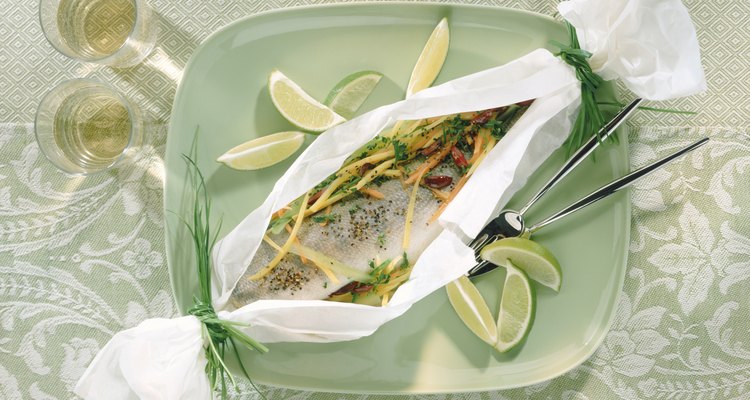 John Foxx/Stockbyte/Getty Images
Fold the edges of the foil up to create a bowl around the fillet. Drizzle the fish with olive oil or melted butter and seasonings of your choice. Scatter very thinly sliced vegetables and a tablespoon or two of white wine over the fish, if you like.
Step 5
Place the other piece of tin foil on top. Carefully roll and crimp the edges with your fingers all the way around to create a sealed pouch around the fish that will hold in the juices and steam as it cooks.
Step 6
Cook the fish on a baking sheet in the preheated oven for seven to 10 minutes. Alternatively, cook the sealed pouch on a medium-heat grill for the same amount of time.
Step 7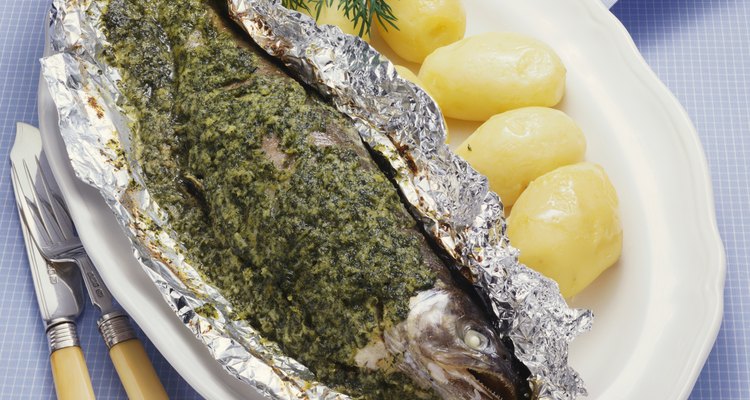 Eising/Photodisc/Getty Images
Remove the pouches from the oven or grill. Handle the hot pouches carefully with oven mitts and a spatula, and open them using a fork or tongs to avoid burns. You may want to slit the top of the pouch with scissors or a knife to allow the steam to escape for a minute before opening.
References
Tips
For extra flavor, saute vegetables before adding them to the top of the fillets.
Add lemon juice for flavor and to help create steam. Place whole lemon slices on top of the fish before sealing the pouch, or squeeze the juice over the top before cooking.
Warnings
Cook fish thoroughly to avoid foodborne illnesses. The internal temperature should reach 145 degrees Fahrenheit. Cook fish until it's no longer translucent and flakes easily with a fork.
Steam is extremely hot, so use caution when opening pouches.
Writer Bio
Kimberly Blough is a food junkie residing in San Diego who began writing professionally in 2013. She obtained her Bachelor of Arts in geography from San Diego State University in 2003 and has taught culinary classes in various capacities since 2005. She teaches cheesemaking workshops and lives on a small hobby farm where she turns the food they grow into delectable dishes.
Photo Credits
Stockbyte/Stockbyte/Getty Images