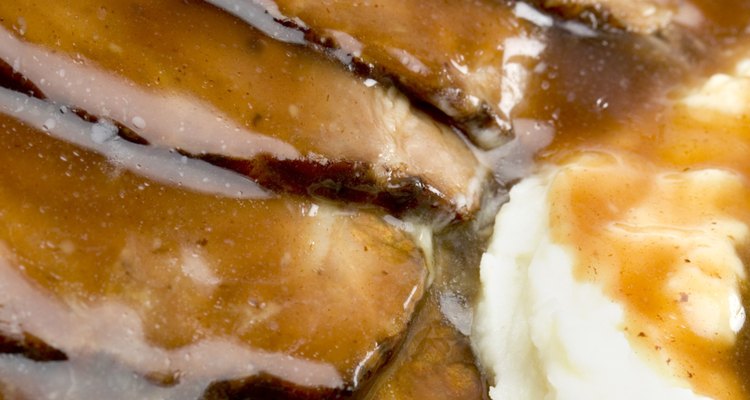 Jupiterimages/liquidlibrary/Getty Images
Gravy is a comfort food that many home cooked meals would not be the same without. However, it is often made using wheat flour as a thickener, which is problematic for those adhering to strict gluten-free diets. Tapioca granules, sometimes called pearls, are an ideal gluten-free and grain-free gravy thickener for people on special diets. Tapioca pearls are found in the baking isle near the pudding in most major grocery stores, making them more convenient to use than other, less-common gluten-free flours and starches. The resulting gravy is smooth, slightly glossy, savory and perfect for mashed potatoes, meat or roasted veggies.
Step 1
Clean your coffee grinder by filling it halfway with uncooked rice granules. Pulse on and off until all of the old coffee debris has been loosened. Empty the pulsed rice into the garbage and wipe out the grinder with a damp cloth.
Step 2
Pour the tapioca granules into the coffee grinder and pulse on and off until it becomes a fine powder. Most coffee grinders will grind tapioca pearls into a finer powder that regular food processors and grain mills, resulting in a smooth gravy.
Step 3
Whisk the tapioca powder into 3 tablespoons of broth or stock. This slurry will allow you to thicken your gravy without it clumping together, causing an unappealing lumpy texture.
Step 4
Bring 3 cups of broth or stock to a boil over high heat and whisk in the tapioca slurry, stirring quickly and constantly for 30 seconds to 1 minute, or until the gravy has thickened to the desired consistency. Serve warm. Store leftovers in the fridge and thin with water as necessary prior to reheating.
References
Tips
Choose your broth or stock flavor based on what foods your meal includes. Beef gravy goes well with steak or roast, while chicken or turkey gravy goes well with poultry dinners. Vegetable stock gravies are ideal for vegetarians and are delicious on mashed potatoes or vegetables and rice.
Season your gravy to compliment your meal with gluten-free tamari, gluten-free bouillon, Italian seasoning, poultry seasoning or other herbs and spices.
Writer Bio
Anne Kinsey is a Certified Trauma Recovery Coach and missionary, residing in rural North Carolina. She is the founder of Love Powered Life, a nonprofit organization with the mission of creating loving community for trafficking survivors and their families. Anne has enjoyed writing for publications like Working Mother, the San Francisco Chronicle, the Houston Chronicle, Bizfluent and Career Trend. She resides in rural North Carolina with her husband, three children and a house full of furry friends.
Photo Credits
Jupiterimages/liquidlibrary/Getty Images