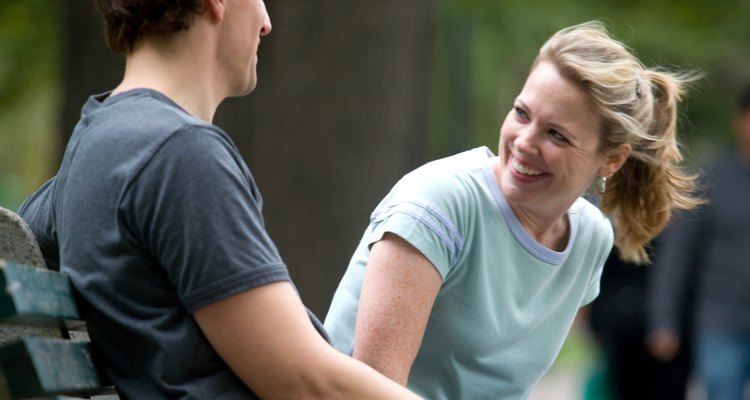 Jupiterimages/Photos.com/Getty Images
Paying someone a genuine compliment is quite an art, according to Hara Estroff Romano, editor at large of "Psychology Today." The right compliment makes both the giver and the receiver feel good about themselves, and strengthens the bond between them. If you have a crush on someone and want to make your feelings known without coming right out and describing them, offer a compliment. The object of your interest will enjoy your praise, and it may be the ice breaker you need to lead to that all-important first date.
Step 1
Report what you like about your crush's appearance and why, for example "I love your smile -- it brightens up my day" or "I like your eyes -- they're so blue." This will give the person you like a confidence boost; it's always nice to hear what other people find attractive about you.
Step 2
Speak up about how your crush enriches your life. Say, for instance, "your smile always makes me feel better." Tell your love interest "our conversations really help me put things into perspective" to make it clear that you appreciate this person's time and attention.
Step 3
Encourage your crush to achieve goals and face fears. Supporting the person you like throughout all endeavors is a huge compliment, as it shows how much you care. If you're there to cheer your crush on even when the outcome doesn't look great, your adoration will be made clear.
Step 4
Ask your crush out on a date. This is a huge compliment, as it says in no uncertain terms that you think highly of this individual and are interested in pursuing a romance. You're basically saying "you're special. I don't want anybody else."
References
Tips
Try to strike a balance when complimenting your crush. Show that you're interested, but don't come across too strong. Gushing about how wonderful the person is might make you appear desperate or fake, which can be a huge turn-off.
Writer Bio
C. Giles is a writer with an MA (Hons) in English literature and a post-graduate diploma in law. Her work has been published in several publications, both online and offline, including "The Herald," "The Big Issue" and "Daily Record."
Photo Credits
Jupiterimages/Photos.com/Getty Images