Packing a school lunch can be frustrating. In the midst of what is likely an already hectic morning, locating homework that walked off in the middle of the night and convincing your kids that brushing their hair and teeth is not optional, you somehow need to nourish them and then pack a bag full of food for later, too. And then there's the exasperation when that very same lunch box appears back at home still packed with untouched food.
In my last 14 years of parenting, the main takeaway when it comes to feeding kids is that they are fickle. All of my children have gone through seasons of likes and dislikes, being agreeable to trying new foods and then hating everything – even old favorites – without warning, and often a general ennui when it comes to getting food into their growing bodies. It's the nature of the beast that these frustrations pop up at different developmental points and can change at a moment's notice.
As a result, I've spent a lot of time trying to perfect a way to remain sane packing a lunch that doesn't take forever, while also keeping my kids interested in what they're eating and willing to eat it in front of their friends. For me, the key has been variety in the daily offerings, as well as engaging the kids in the choices, whether it be picking their fruit or choosing the vegetables that will go into a pasta salad.

This soba noodle salad takes just minutes to prepare. Cold cucumbers, green onions, and carrots give it a bit of crunch, but the beauty here is you can adjust your vegetables to match your child's preferences. Substitute their favorite chopped vegetables for a salad they'll be happy eating in the cafeteria.
Alternative vegetable ideas: bean sprouts, radishes or daikon, chopped greens, broccoli, zucchini spears, etc.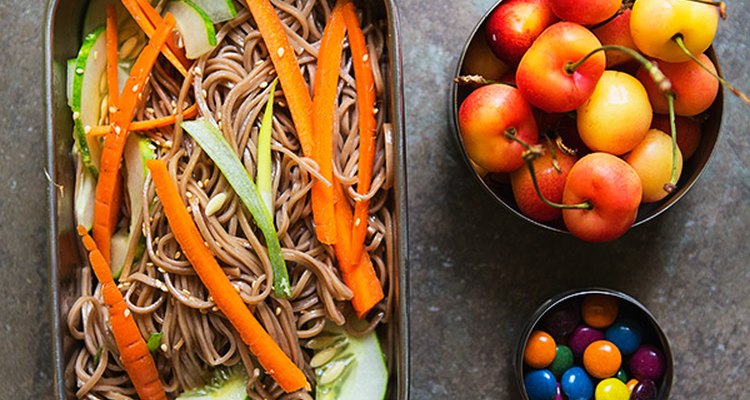 Cold Sesame Soba Noodle Salad
Prep Time: 10 minutes
Cook Time: 3 minutes
4 ounces buckwheat soba noodles
2 carrots, julienned
2 green onions, julienned
1 small cucumber
1 tablespoon toasted sesame oil
2 teaspoons soy sauce or tamari
2 teaspoons rice vinegar
1 teaspoon mirin
2 teaspoons grated ginger
1 clove garlic, minced
Cook the soba noodles according to package directions, about 3 minutes. Drain and rinse in cold water until cool.
In a medium bowl, combine the soba, carrots and green onions. Cut the cucumber in half, lengthwise, and then remove the seeds. Slice and add to the bowl.
In a small dish, combine the toasted sesame oil, soy sauce, rice vinegar, mirin, ginger and garlic. Whisk to mix, and then pour over the noodles. Toss the dressing, noodles, and vegetables until evenly coated.
Photo credit: Shaina Olmanson