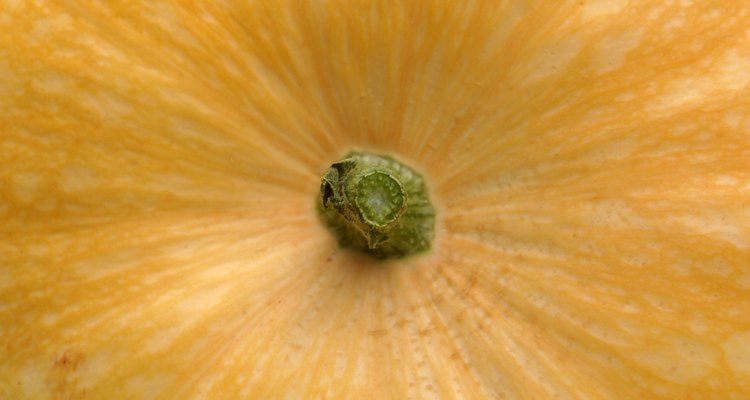 Hemera Technologies/AbleStock.com/Getty Images
You'll find commercial mixes for pumpkin bread, but not pumpkin cake. You can use any boxed cake mix with a neutral or complementary flavor to make a pumpkin roll. A traditional pumpkin roll -- or roulade -- starts with a light, moist pumpkin cake. Add a cream cheese filling and you've got a delicious dessert.
The Cake Mix Advantage
Cake mixes have some advantages over baking a pumpkin roll from scratch. They've been tested many times, so they bake reliably. They also have added emulsifiers to ensure a moist, fine texture. On the other hand, to make a pumpkin roll from a cake mix, you're probably already adding a lot of extra ingredients, such as buttermilk, pureed pumpkin and spices. You're not far off from making a cake from scratch.
Lower-Fat Options
Another benefit of using a cake mix is that you won't need butter or other saturated fats. You might not need much oil, either. Because the cake contains pumpkin puree, you can cut down on the oil and the cake will still be moist. To ensure a moist, delicious pumpkin roll, use pumpkin puree, not pumpkin pie filling, with the cake mix. Pumpkin pie filling contains sugar and other ingredients, which can negatively affect the finished cake.
Basic Strategy
Pumpkin rolls made from cake mixes typically start with a yellow or white cake mix. You'll need some oil and eggs, just as you would if you were making a standard cake. An ordinary cake mix becomes something special, though, when you add pureed pumpkin and spices. Don't bake the pumpkin roll in a standard cake pan. Instead, bake the pumpkin rolls on a jelly roll pan or a cookie sheet with a deep lip.
Roll It Up
Making a pumpkin roll is simple, but rolling it can seem daunting. Instead of allowing the cake to cool on a cooling rack, remove it from the pan and roll it up with a clean dishcloth inside. Rolling the cake while it's still warm helps prevent cracking. The dishtowel keeps the sides of the rolled cake from sticking together. Once it's cooled, you can unroll it, spread the filling and roll it back up. Serve pumpkin roll cake chilled or at room temperature, depending on the type of filling you use. Cakes with perishable whipped cream filling should be refrigerated.
Tips for Success
For a thinner cake, use only one-half of the box of cake mix and reduce the number of eggs or quantity of oil in the cake. Because the cake contains pumpkin puree, you need less fat to provide moisture. Don't use a pumpkin pie mix, as it will make the end product too sweet and the texture might be off.
References
Christmas Recipes From the Lion House; Gloria W. Rytting
Writer Bio
Julie Christensen is a food writer, caterer, and mom-chef. She's the creator of MarmaladeMom.org, dedicated to family fun and delicious food, and released a book titled "More Than Pot Roast: Fast, Fresh Slow Cooker Recipes."
Photo Credits
Hemera Technologies/AbleStock.com/Getty Images