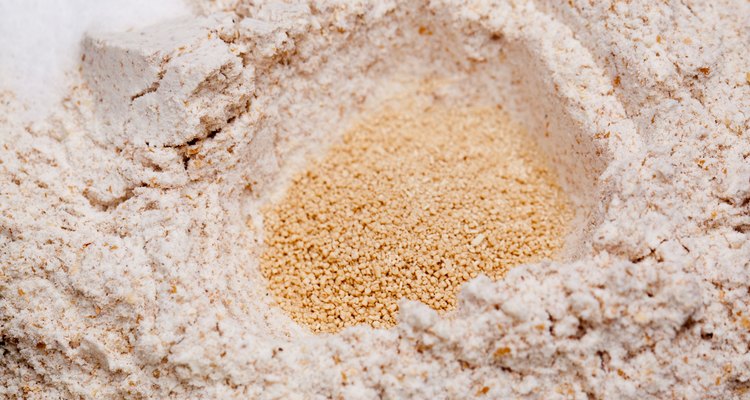 Zoonar/S.Heap/Zoonar/Getty Images
Staying healthy does not mean you need to exclude desserts from your diet. There are many healthy substitutes that could be used when making cakes. Just because it's healthier does not mean it won't fulfill that sweet tooth; these substitutes will produce less calories, less sugar, no saturated and trans fats, and will provide more healthy nutrients than most common cake recipes.
Flour Substitute
Enriched white flour is usually the base for most cake mix boxes and homemade cake recipes, but white flour has little to no healthy and nutritional value. One way to make a healthier cake mix is to substitute whole wheat flour for white flour; you can do half wheat and half white or entirely wheat. Using only a portion of whole wheat will produce a lighter color and a milder flavor than using all wheat. According to Methods of Healing, you might need to increase the moisture in the recipe when you use this substitution in order to prevent a dry cake.
Egg and Butter Substitute
There are a few good fat and cholesterol substitutes that can be used to make a healthier cake. According to Betty Crocker, plain yogurt and applesauce can be used to substitute butter or oil in a recipe, but only replace no more than half of the amount listed on the recipe to keep the texture and flavor. For example, if a cake recipe calls for 1/2 cup of butter, substituting 1/4 cup of applesauce will save 400 calories and 44 g of fat. Another healthy substitution is with eggs; replace one whole egg in a recipe with two egg whites, or 1/4 cup of cholesterol-free or fat-free egg beaters. This will save more than 100 calories and 10 g of fat, according to Betty Crocker.
Healthy Carrot Cake Recipe
A healthy carrot cake recipe found on Cooks.com calls for 1 1/3 cup of honey, four eggs beaten, 1 tsp of salt, 2 cups of whole wheat flour, 1 cup of oil, 3 tsp. of baking powder, 2 cups of grated carrots, 1 cup of crushed pineapple and 1/2 cup each of sunflower seeds, coconut, walnuts and raisins. To make this cake even healthier, substitute eight egg whites for the eggs for and applesauce for 1/2 cup of the oil.
Heart Healthy Apple Cake
Another cake found on Cooks.com, known as the heart healthy apple cake, calls for, 2 cups of diced apples, 1 cup of sugar, 1/3 cup of oil, 1/2 tsp. of vanilla, two egg whites, 1 1/2 cups of flour, 1 tsp. of baking powder, 1 tsp. of baking soda, 1 tsp. of cinnamon and 1/2 cup of raisins. To make this recipe even healthier, substitute Truvia or Stevia for the sugar, use applesauce for the oil and use whole wheat flour.
References
Writer Bio
Dustin Bogle is an experienced personal trainer, group fitness instructor, nutritionist and fitness article writer. His articles have been featured in "Daily Press" newspaper and "Fresh Ink" newspaper.
Photo Credits
Zoonar/S.Heap/Zoonar/Getty Images