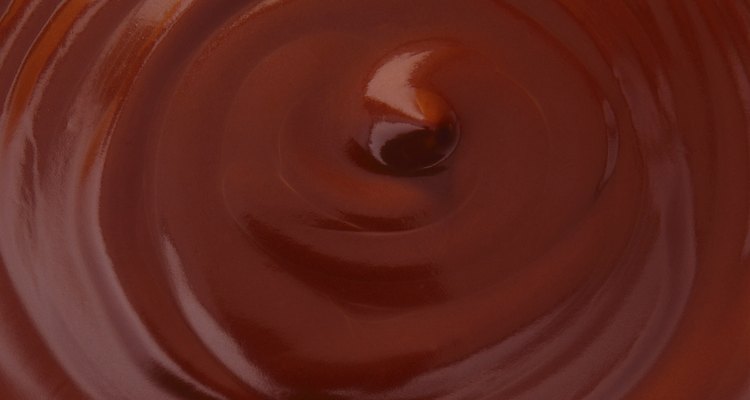 Brand X Pictures/Stockbyte/Getty Images
Home bakers have added dry pudding mix to cakes for over 40 years, but you can use prepared pudding, as well. Dry pudding mix is usually more convenient, but prepared pudding is loaded with ingredients that add moisture and richness to a cake, allowing you to reduce or even eliminate the oil. Homemade prepared pudding typically contains egg yolks and whole milk, making it the best choice for using in a cake mix, but commercial products work in a pinch.
Prepared Pudding
Pudding contains mostly milk, along with sugar, eggs, cornstarch, flavorings and oil or butter. You can use it in cakes in place of oil, but start slowly unless you have a recipe specifically adapted for using pudding. Substitute half the oil for pudding initially. If you're happy with the results, try using a bit more pudding next time. Another option is to substitute half the oil with applesauce, yogurt or sour cream and half the oil with pudding.
Powdered Mix
Pudding mixes create cakes that are moister and denser than regular cakes. A package of instant pudding mix won't completely replace oil, but you can reduce the amount of oil you use by a few tablespoons. To omit the oil entirely, you must replace it with another moist ingredient, such as applesauce, yogurt or sour cream.
Making the Switch
Always choose a pudding or pudding mix in a flavor that complements your cake. For example, use chocolate pudding in a chocolate cake and vanilla pudding in almost everything else. Don't use tapioca or rice pudding, which will give a chewy texture to the cake. Cakes with pudding in them tend to shrink slightly as they cool and may not be as uniformly shaped as a regular cake. If you plan to use a heavy filling or frosting on the cake, the pudding may make the cake too wet, according to Anne Byrn, author of "The Cake Mix Doctor."
Pudding In the Mix
Pillsbury executives noticed that many of the recipes winning Bake-Off contests contained dry pudding. In response, the company began adding dry pudding mix to its cake mixes in 1977. Therefore, when adding pudding to a cake mix, make sure the mix doesn't already have pudding in it or you'll end up with a cake that's too wet.
References
Writer Bio
Julie Christensen is a food writer, caterer, and mom-chef. She's the creator of MarmaladeMom.org, dedicated to family fun and delicious food, and released a book titled "More Than Pot Roast: Fast, Fresh Slow Cooker Recipes."
Photo Credits
Brand X Pictures/Stockbyte/Getty Images