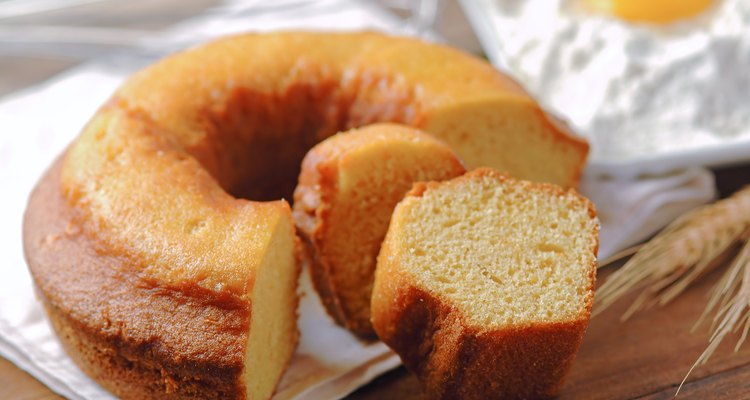 aizram18/iStock/GettyImages
Dry pudding mixes contain little more than sugar, thickeners and flavorings, yet they make a difference in the taste and texture of cakes when they're added to the mix. A manufacturer began adding dry pudding to its cake mixes after company executives noticed that many of their baking contest winners used dry pudding mixes in their prize-winning desserts. To successfully use pudding to enhance boxed cake mix, choose a pudding flavor that complements the mix.
Putting Pudding in the Mix
If you'd like to add pudding to a cake mix, pour a small, instant pudding mix in the bowl of your stand mixer or a bowl. Add the dry cake mix, and stir the two together before you add the wet ingredients. Don't use a cake mix that already has pudding in the mix; read the package carefully since many mixes already include dry pudding ingredients.
Taste the Results
Adding pudding to a cake mix doesn't alter the flavor a great deal, but it does help create a moist, flavorful cake. Cakes with instant pudding added may also stay fresh longer. Because of these factors, a pudding mix is ideal for sheet cakes, quick breads and cakes made in a tube or bundt pan. Pudding mixes don't work as well if you're using a thick filling or heavy frosting; your cake may become too heavy and even wet.
Flavor Options
Instant vanilla pudding has a neutral flavor that can be paired with almost any kind of cake mix. Add it to white, yellow, carrot, spice or strawberry-flavored cakes. Use lemon pudding in a lemon or orange cake, and chocolate pudding pairs with any type of chocolate-flavored cake.
Tips for Success
The first time you add pudding to a cake mix, follow the manufacturer's directions exactly in the number of eggs and proportions of oil and water. Lightly mix the ingredients on low speed so you don't toughen the cake. The cake may take slightly longer to bake, but begin checking it 5 minutes before you think it might be done. Pull it out of the oven when a toothpick inserted in the middle comes out with moist crumbs. Allow the cake to cool for at least 15 minutes before removing it from the pan. If the cake is too moist, try reducing the oil slightly the next time. Don't add sour cream if you're using a pudding mix. For a homemade taste, try adding real vanilla, almond or lemon extracts. You an also substitute melted butter for some of the oil.
References
Writer Bio
Julie Christensen is a food writer, caterer, and mom-chef. She's the creator of MarmaladeMom.org, dedicated to family fun and delicious food, and released a book titled "More Than Pot Roast: Fast, Fresh Slow Cooker Recipes."