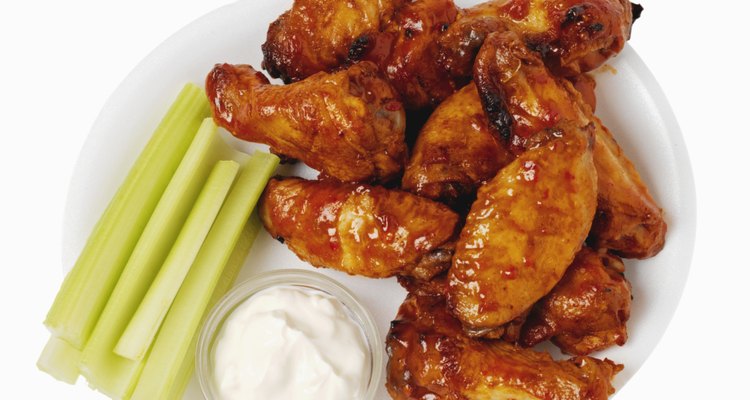 Ciaran Griffin/Stockbyte/Getty Images
When done right, fried and sauced chicken wings are both crunchy from frying and packed with their sauce's clinging flavor. While sauce is always added after frying, wings can be marinated before frying to amp up their flavor further. Marinate, deep fry and then roll your wings in sauce to create finger-licking wings that will be gone in minutes.
Fried Wings Unwrapped
Chicken wing sauces are typically thick, sweet, sticky and sometimes spicy mixtures that are not suitable for frying and will not adhere to wings in oil. Sauce is applied after frying chicken wings, not before. However, fried wings can be marinated anywhere from one hour to overnight for added flavor. Marinades are thinner than the final sauce and must be discarded after using because they contain raw chicken juices. Shake the marinade off the chicken wings and pat them dry with a clean kitchen towel before frying to prevent the oil from splattering.
The Sauce
Prepare the wing sauce in advance of frying the chicken wings so that it is complete before the wings are done frying. After frying the wings to crispness, drain them on paper towels to remove excess oil and roll them in the prepared sauce. Serve while still hot.
References
Writer Bio
Based in Portland, Ore., Maxine Wallace is a writer with more than 12 years of experience. With a bachelor's degree in journalism and experience working on marketing campaigns for large media agencies, she is well-versed in multiple industries including the Internet, cooking, gardening, health, fitness, travel and holistic living.
Photo Credits
Ciaran Griffin/Stockbyte/Getty Images