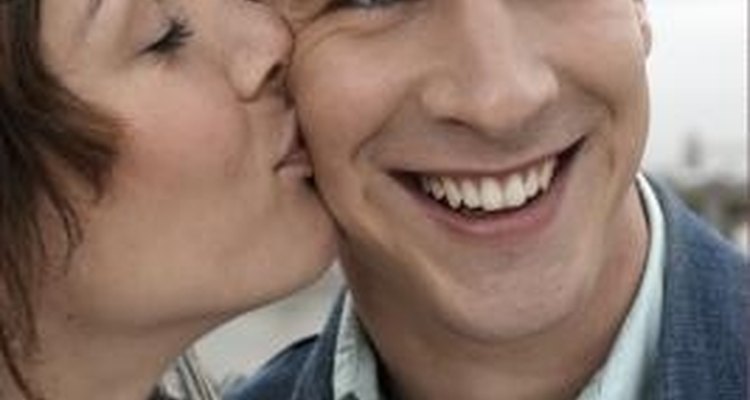 MM Productions/Lifesize/Getty Images
Sometimes, a simple, "I'm proud of you" can be all you need to know how someone feels about you. Other times, however, this cliche sentence may fall flat. If you truly want to know if your boyfriend is proud of you, take in more than just the run-of-the-mill statements. Pay attention to how he treats you and reacts to you to figure out just how proud you make your man.
Tell your boyfriend about a new goal that you want to reach and see how he reacts. If he supports you and encourages you to reach for the goal, this is a good sign that he's proud of you. If he's a supportive boyfriend, he likely not only likes that you have goals but also believes that you can achieve them.
Listen to the ways in which your boyfriend expresses his pride. Some ways of wording praise are more meaningful than others. If he seems to focus on your specific accomplishments and performance, instead of simply saying that he's happy with you and your situation, he's expressing genuine pride.
Notice the times in which your boyfriend tries to perk you up even when you've failed. If you tried your hand at something new and didn't succeed, a boyfriend who is proud of you will be proud regardless of the outcome. He will still make you feel like you put forth a good effort despite the end result.
Think about the times that he praises you. If you're seeking approval and asking for his acceptance, he may not be giving it in a genuine way. You shouldn't be dependent on his praise, and he shouldn't feel that the only time you're happy and satisfied with yourself is when he's showing that he's proud of you. However, if he shows his pride for you all on his own, you can bet that he's expressing his true feelings.
References
Tips
Specific examples are more meaningful -- and more thought out -- than typical ones. "You should be proud of yourself," may give you a positive feeling, but, "You should be proud of yourself for handling the meeting with your boss so well," is better.
Warnings
Even if you have a boyfriend who routinely tells you how proud he is of you, try to not become too used to the attention. Pride should be showered on people at certain times, but not all the time. Hearing encouraging words from time to time will mean a lot more than being constantly praised for every single thing you do, both big and small.
Writer Bio
As a full-time writer in New York's Hudson Valley, Lindsay Pietroluongo's nightlife column and photos have appeared regularly in the "Poughkeepsie Journal" since 2007. Additional publications include "Chronogram," the "New Paltz Sojourn," "About Town" newspaper and "Outsider" magazine. Pietroluongo graduated from Marist College with a B.A. in English.
Photo Credits
MM Productions/Lifesize/Getty Images