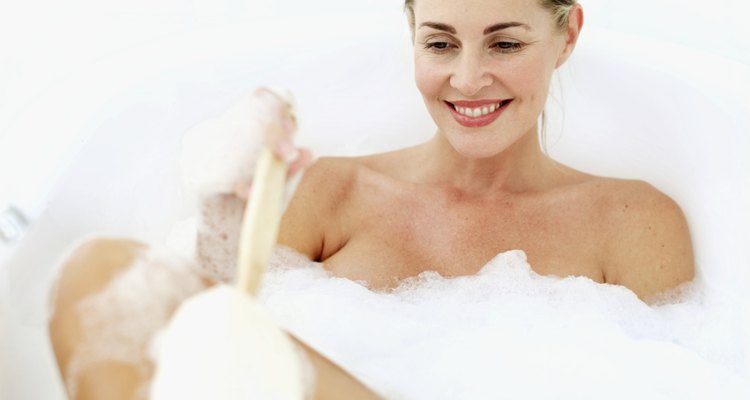 George Doyle/Stockbyte/Getty Images
A hot bath or shower is one of the most civilized pleasures available in this fast moving world. Clean, warm water is an indulgence we often take for granted, but it should be celebrated. And what better way to celebrate than with fabulous bath toys? Bath poufs are little scrunchy balls of nylon, available anywhere bath products are sold.
Wet your bath pouf thoroughly, and then squeeze most of the excess water out. It can stay a little drippy, the added water will help make lather.
Squeeze a dime sized dollop of liquid soap or bath gel onto it. You can also wet a bar of soap and scrub it vigorously against the bath pouf until you get a thick lather.
Use the bath pouf to exfoliate your entire body. You can do this in the shower or the bathtub; if the soap or gel rinses off, just put on some more. The slightly rough texture of the bath pouf helps remove dead skin cells and leaves your skin looking and feeling silky and soft.
Rinse your bath pouf completely clean under very hot water and shake it out. Hang it up to dry.
Launder or replace your bath poufs at least once every four to six weeks, because they do retain bacteria. If you decide to wash them, use hot water and let them go through the dryer.
References
Writer Bio
Brynne Chandler raised three children alone while travelling, remodeling old homes, taking classes at the Unioversity of California Northridge and enjoying a successful career writing TV Animation. Her passions include cooking, tinkering, decorating and muscle cars. Brynne has been writing fun and informative non-fiction articles for almost a decade. She is hard at work on her first cookbook, which combines healthy eating with science-based natural remedies.
Photo Credits
George Doyle/Stockbyte/Getty Images