Barry Austin Photography/Photodisc/Getty Images
An athletic banquet is a time to honor achievements on sports teams. Awards are given for children's sports to high school competitive leagues. The banquet is a formal affair for family members and friends of athletes to attend. The award recipients are given plaques, certificates or monetary awards for their sportsmanship and skill at any sport.
Most Improved Player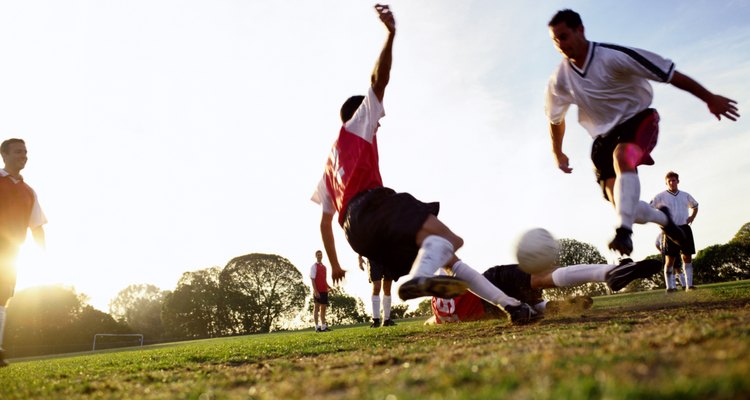 Ryan McVay/Photodisc/Getty Images
The Most Improved Player award goes to the team member who has achieved the most athletically. An individual who began the season lacking skills and has improved tremendously, perhaps staying after practice to perfect skills, deserves this award. At the athletic banquet, present the award with statistics or other examples of how this player has improved over the season.
Team Spirit Award
Jupiterimages/Stockbyte/Getty Images
The Team Spirit Award is presented to the player who has the most enthusiasm. Team spirit consists of pride in the team and a motivational attitude. Present this award to the team member who is dedicated to seeing the team win and has a consistently positive attitude even when games are lost. The Team Spirit Award goes to the player who encourages teammates and cheers others on and may also be someone who wear team colors frequently or displays the team logo as a part of everyday wardrobe.
Team Leader
Jupiterimages/Stockbyte/Getty Images
A team leader displays responsibility and initiative. This award is presented to the person who was not the team captain, but took on a leadership role to give positive reinforcement to other players. This person also takes on the task of helping other players improve their skills. Team members look up to this person as a role model and mentor because this individual has a strong work ethic and is dependable and trustworthy. Present this award at an athletic banquet so the team leader is recognized for going beyond expectations.
Team Choice Award
Every member of the team decides upon the Team Choice Award. Cast an anonymous vote by ballot among the team for this award. The Team Choice Award recipient displays characteristics of friendliness to all team members, coaches and managers, as well as exceptional sportsmanship.
References
Writer Bio
Althea Thompson began writing professionally in 2002, and her work has appeared on CBN News and in the award-winning "Focus Magazine." She holds a Master of Arts in journalism from Regent University and a Bachelor of Arts in communication and writing from Houghton College.
Photo Credits
Barry Austin Photography/Photodisc/Getty Images