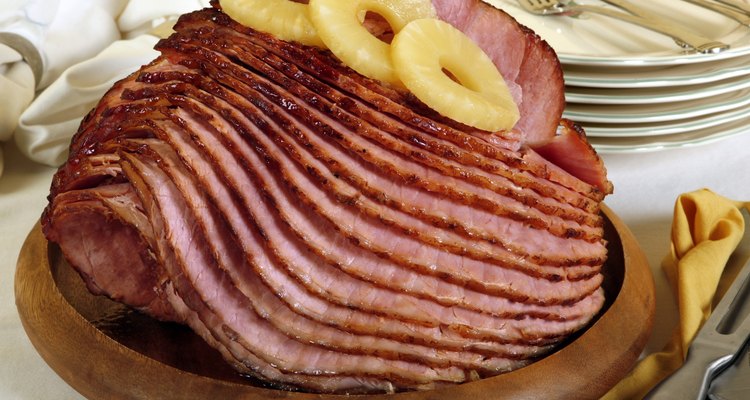 Jack Puccio/iStock/Getty Images
In the Philippines, families celebrate Christmas Eve -- known there as Noche Buena -- with a feast at midnight that includes a variety of traditional dishes, including hamon, or Christmas ham. Filipino-style ham is typically prepared with a ready-to-eat ham that is boiled, then baked after being covered with a glaze based on pineapple juice and brown sugar. If you're on a sodium-restricted diet, consume ham only occasionally: A 3-ounce serving of cured ham can contain nearly 1,000 milligrams of sodium, or almost 45 percent of the daily recommended limit for healthy adults.
Put the fully cooked, ready-to-eat bone-in ham in a large stock pot. Add enough pineapple juice mixed with brown sugar to cover the ham. Plan on approximately 1 cup of brown sugar for every 8 cups of pineapple juice used.
Bring the liquid to a boil. Lower the heat so the liquid is at a gentle simmer, then allow the ham to cook for one hour.
Remove the ham from the stock pot and let it cool. Use a sharp knife to remove the ham's skin and to make diagonal slashes along the surface of the meat. Place the ham on a rack in a roasting pan.
Boil brown sugar and water in a small saucepan, using 1 cup of sugar for every 1/2 cup of water. Use a pastry brush to coat the ham with the thickened glaze.
Bake the ham in a preheated oven until it is browned and warmed through, about 20 minutes. Cover the ham with foil and let it stand, undisturbed, for 15 minutes. Slice and serve.
References
Tips
For a more traditional presentation, insert whole cloves into the ham before baking. Garnish the finished ham with drained canned pineapple slices and maraschino cherries.
Writer Bio
Michelle Kerns writes for a variety of print and online publications and specializes in literature and science topics. She has served as a book columnist since 2008 and is a member of the National Book Critics Circle. Kerns studied English literature and neurology at UC Davis.
Photo Credits
Jack Puccio/iStock/Getty Images