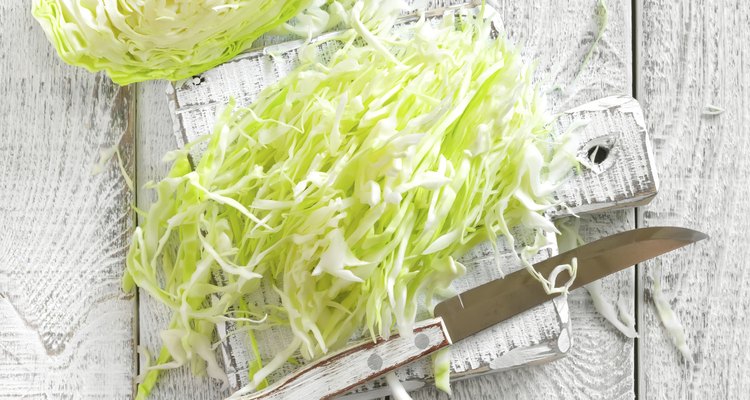 YelenaYemchuk/iStock/Getty Images
Cabbage and noodles, also known as haluska, is a common Hungarian meal often served for lunch or dinner. The cabbage infuses the noodles with a distinct flavor, similar to that of an onion. The simple ingredients provide large amounts of vitamins K and C, as well as a substantial amount of dietary fiber. Cabbage and noodles is easy to prepare in a Crock-Pot and requires approximately 3 1/2 hours to prepare about six servings.
Combine the sea salt and cabbage in a medium mixing bowl. Toss the cabbage with your hands and allow it to rest at room temperature for 30 minutes.
Squeeze the cabbage between your hands over a sink, removing as much liquid as possible. Transfer the cabbage to a Crock-Pot.
Add the sliced onion and ground black pepper to the Crock-Pot. The onion enhances the flavor of the cabbage, but you can forgo it if you prefer. Cover the Crock-Pot and cook the cabbage and onions on high for two hours.
Stir the cooked egg noodles into the Crock-Pot, cover and continue cooking the cabbage and noodles for one hour on low.
Serve the cabbage and noodles while hot.
References
Tips
Refrigerate leftover cabbage and noodles immediately and consume it within three days.
Writer Bio
Serena Styles is a Colorado-based writer who specializes in health, fitness and food. Speaking three languages and working on a fourth, Styles is pursuing a Bachelor's in Linguistics and preparing to travel the world. When Styles isn't writing, she can be found hiking, cooking or working as a certified nutritionist.
Photo Credits
YelenaYemchuk/iStock/Getty Images