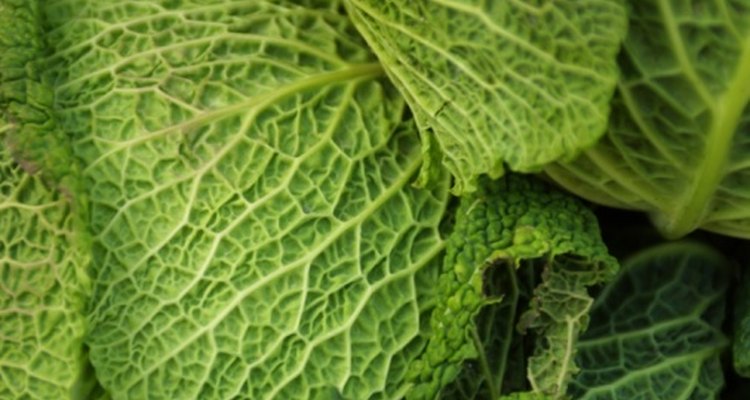 Photos.com/Photos.com/Getty Images
Galumpkies, also spelled Galumpkis, is a Polish cabbage roll that creates a hearty meal with minimal effort. Blanching the cabbage leaves, rather than boiling the entire heads of cabbage, cuts down on the cooking time and makes the leaves more durable for rolling. The interior meat mixture is traditionally a combination of ground pork and ground beef, but any ground meats will work. The rice is a necessary ingredient, as it acts as a binder, but whole grain or wild rice could be used instead of white for a healthier meal.
Preheat the oven to 350 degrees F. Core two heads of cabbage. Fill a kettle three-quarters full with water and bring to a boil. Use a sharp knife to remove the leaves of the cabbages as neatly as possible. Toss the leaves into the boiling water and allow to cook for five minutes. Remove from the hot water, pat dry and discard any leaves that suffered structural damage during cooking.
Heat 2 tbsp. olive oil in a skillet over medium high heat. Add one chopped onion and cook for three to five minutes or until the onion starts to become translucent. Add two minced garlic cloves to the skillet and cook for three minutes, stirring frequently. Pour in 2 tbsp. tomato paste, two 14 1/2-oz. cans diced tomatoes and 2 tbsp. dry red wine. Stir to combine well and cook for five minutes until heated through. Reduce the heat to low.
Combine in a large bowl 2 cups cooked white rice, 1 lb. ground beef, 1 lb. ground pork and salt and pepper, to taste. Pour three-quarters of the tomato sauce mixture into the bowl and combine well. Lay out a cabbage leaf and place 1/2 cup of the meat and sauce mixture into the center. Roll up the leaf and place it, seam side down, into a glass baking dish. Repeat with remaining leaves.
Pour the remaining tomato sauce mixture over the cabbage rolls in the pan. Bake for between one hour to one hour and 30 minutes, checking in on the rolls at the hour mark. Serve hot.
References
Photo Credits
Photos.com/Photos.com/Getty Images