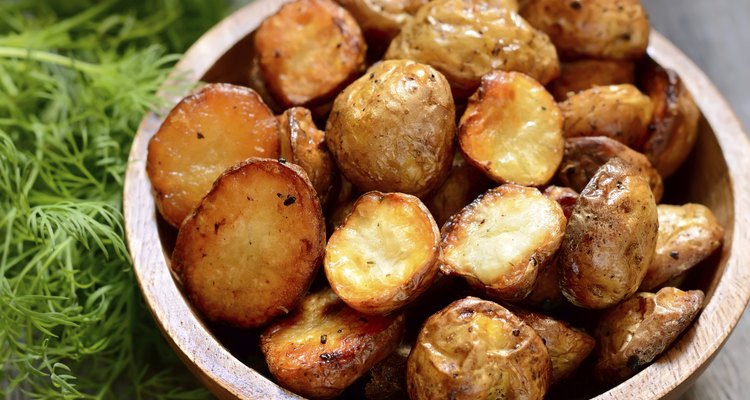 voltan1/iStock/Getty Images
The trace element iodine is naturally present in some foods such as potatoes. Your body needs it to produce certain thyroid hormones and for other functions. In fact, it's critical to health in all life stages. While you can gain nutrients from supplements, the dietary guidelines in the United States call for meeting most of your need for iodine and other nutrients through foods such as potatoes.
Amounts
Soil in different locations contains varying amounts of iodine. This, in turn, affects the iodine content of crops such as potatoes. That means nutritional information on iodine content in potatoes is approximate. In general in the United States, 100 g potatoes provide 13 percent of your daily iodine requirement. The recommended daily intake of iodine is 150 mgc. The tolerable upper intake level is 1,100 mcg.
Fast Facts
Iodine is absorbed by potato plant leaves during tuber growth. When you consume a food like potatoes, iodine is rapidly absorbed in your body in a form called iodide. Other food sources of iodine include spinach, almonds, saltwater fish, seaweed, dairy products and eggs. A top source for this trace mineral is iodized salt, which many people add to baked potatoes. About 70 percent of households worldwide consume iodized salt.
Iodine-Added Potatoes
Some food manufacturers sell potatoes that feature extra iodine. An Italian food manufacturer, for example, launched an enhanced-iodine potato in 2007. The potatoes come in 3.3 lb. bags. They are purported to supply 30 percent of your iodine need for a 200 g serving, or 15 percent per 100 g serving. A medium potato is about 173 g.
Considerations
Iodine deficiency can cause developmental and functional abnormalities such as mental retardation. In fact, iodine deficiency is one of the most important causes of preventable brain damage and retardation. Unfortunately, billions of people in 118 countries are at risk for iodine deficiency, according to "Food Additives," by Alfred Larry Branen. In the United States, the average iodine intake ranges from 138 mcg to 353 mcg a day.
References
Writer Bio
Linda Tarr Kent is a reporter and editor with more than 20 years experience at Gannett Company Inc., The McClatchy Company, Sound Publishing Inc., Mach Publishing, MomFit The Movement and other companies. Her area of expertise is health and fitness. She is a Bosu fitness and stand-up paddle surfing instructor. Kent holds a bachelor's degree in journalism from Washington State University.
Photo Credits
voltan1/iStock/Getty Images