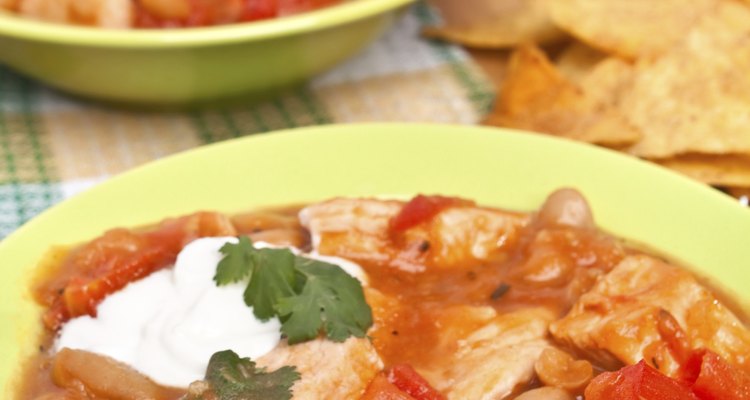 Olga Nayashkova/iStock/Getty Images
You don't have to give up your favorite foods -- including chili -- when you're following Weight Watchers. However, you may want to change the type you buy or how you prepare it at home if you want each serving to use up as few Weight Watchers points as possible. Whatever chili you choose, go easy on toppings like shredded cheese, sour cream, chopped avocado or crushed tortilla chips. These will add fat and calories to your chili and increase the points value.
Vegetarian Chili
A homemade vegetarian chili containing kidney beans, canned corn, stewed tomatoes and tomato sauce, all seasoned with garlic, oregano, red pepper flakes, dried onion flakes and chili powder, has a value of 8 points on the Weight Watchers PointsPlus scale in every 1 1/4 cup serving. That's about 6 points in a standard 1-cup serving. Since this total includes 1 tablespoon of low-fat shredded cheddar, skipping the cheese makes a lower-point chili. If you're looking for a quality canned vegetarian chili, Weight Watchers recommends Health Valley Organic Vegetarian Chunky Chili, which, without cheese, has 5 points per cup.
Turkey Chili
Instead of ground beef, which usually contains a significant amount of saturated fat and cholesterol, make your chili using ground turkey. Turkey chili made with 93 percent lean meat, kidney beans, fresh tomatoes, green bell peppers, carrots, onions and garlic in a sauce made from tomato sauce and chicken broth and seasoned with paprika, cumin, chili powder, red pepper and apple cider vinegar contains 6 Weight Watchers PointsPlus in every cup. Instead of garnishing your bowl with cheese, choose chopped green onions -- they supply zero points and won't affect the total.
Beef Chili
Popular brands of commercial beef and bean chili typically contain approximately 6 Weight Watchers PointsPlus in every 1-cup serving. For far less sodium and one less point per serving, Weight Watchers suggests making your own using lean beef sirloin -- not ground beef -- tomato sauce, canned crushed tomatoes, low-sodium beef broth and kidney beans. Trim as much visible fat from the sirloin as possible before cooking. Onions, celery, jalapeno peppers, oregano, cumin and chili powder give it flavor without adding fat. The points value does not include toppings like cheese.
Chicken Chili
Homemade chicken chili made with navy and kidney beans, chicken or vegetable broth, fire-roasted tomatoes and tomato paste contains approximately 4 PointsPlus in every 1 3/4 cup serving, or less than 3 points in a typical 1-cup serving. Use skinless chicken breast fillets, skinless chicken thighs or a combination of both and choose broth that is both fat-free and low in sodium. The seasonings include your chosen amount of cayenne pepper along with cumin and chili powder, and you can add 1/4 cup of reduced-fat cheese to your serving without altering the points total.
References
Writer Bio
Michelle Kerns writes for a variety of print and online publications and specializes in literature and science topics. She has served as a book columnist since 2008 and is a member of the National Book Critics Circle. Kerns studied English literature and neurology at UC Davis.
Photo Credits
Olga Nayashkova/iStock/Getty Images