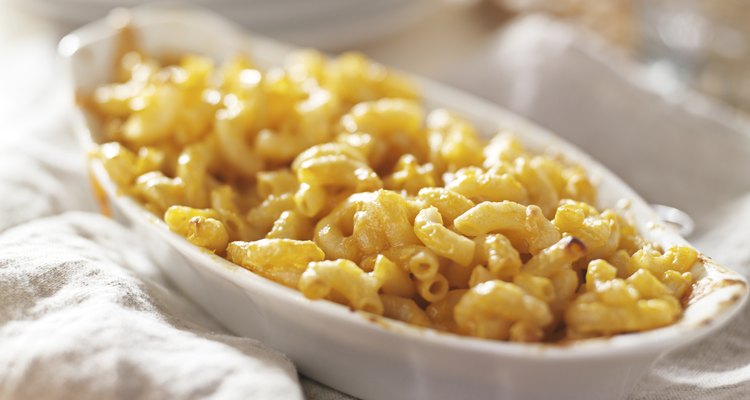 rez-art/iStock/Getty Images
Macaroni and cheese has come a long way since 1802 when President Thomas Jefferson first served it at a state dinner. Since pasta was not readily available to the masses at that time, the dish did not catch on in popularity until 1937 when Kraft introduced its boxed version. Cheese and butter are at the heart of a good macaroni and cheese, and both ingredients tend to solidify and get grainy as they cool. The addition of a few simple ingredients, however, can transform an otherwise thick, clumpy sauce into a cheesy, creamy delight.
Add a small handful of salt to a large pot of cold water. Cover tightly and bring to a boil over high heat. Remove the lid, add the pasta and cook according to package directions until the pasta is al dente, or still firm to the bite. Remove the pan from the heat, drain the pasta and set aside.
Melt 6 tbsp. of the butter in a large saucepan over medium-low heat, making sure not to brown or burn the butter. Mix the flour with 2 tsp. of salt, the dry mustard, white pepper and nutmeg and add to the butter in the pan. Stir constantly with a wooden spoon until the mixture, called a roux, forms a dough and pulls away from the sides of the pan.
Add the whole and evaporated milk to the roux and cook, stirring constantly, until the mixture thickens to a thick gravy consistency. Add the cream cheese to the mix and stir until the cheese has melted. Remove the pan from the heat and add the shredded cheese. Stir constantly until the cheese has melted.
Preheat the oven to 375 degrees Fahrenheit. Butter a baking dish with the remaining 2 tbsp. of butter. Arrange the pasta in the dish. Pour the cheese sauce over the pasta and stir to thoroughly combine. Combine the breadcrumbs and Parmesan cheese in a small bowl. Sprinkle evenly over the pasta and cheese mixture.
Cook the macaroni and cheese in a preheated oven for 30 minutes or until the cheese begins to bubble. Let sit for 10 minutes before serving.
References
Resources
Writer Bio
After attending Fairfield University, Hannah Wickford spent more than 15 years in market research and marketing in the consumer packaged goods industry. In 2003 she decided to shift careers and now maintains three successful food-related blogs and writes online articles, website copy and newsletters for multiple clients.
Photo Credits
rez-art/iStock/Getty Images