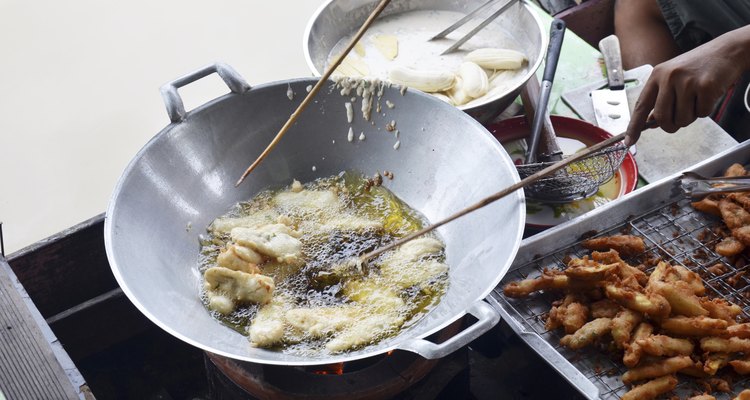 Tuayai/iStock/Getty Images
The plantain is a relative of the standard banana that can be prepared and eaten either as a sweet fruit or a starchy vegetable. Plantains are not found in North America, but are largely imported from northern areas of South America and Central America. Plantains are not eaten raw like the smaller banana, but rather are cooked before eaten.
Ripeness
The ripeness of the plantain will determine the style in which you will cook it. Green plantains are going to be starchy and not sweet, flavored similar to the potato and would typically be fried or boiled. Yellow plantains will be sweeter, as this is the stage when the sugars of the fruit begin to develop. They can be eaten fried or baked. Black plantains are very ripe and sweet. Use these in a sweet recipe or dessert.
Fried
You can fry any plantain, no matter the ripeness; However, depending on the ripeness of the plantain, the taste will be vastly different. To fry a plantain, peel and slice the plantain. Heat oil in the bottom of a frying pan on the stove. The amount of oil depends on the recipe you are using. Once the oil is hot, put the plantain slices in the pan until they are lightly golden in color on both sides.
Baked
For sweet plantain snack chips, choose black or yellow plantains for baking. For salty potato-like plantain chips, choose a green unripe plantain. Peel and thinly slice the plantain and bake on a cookie sheet. Season the chips with savory or sweet spices.
Other Methods
You can also boil plantains, and serve them as a vegetable side dish. For boiling, peel and cut the plantain into a few large pieces and boil until they are tender. Black plantains are popular for grilling; Peel and slice a black plantain into large slices and grill until they are soft.
References
Writer Bio
Jennifer Bodin covers a variety of topics, from health to family budgets. An Army veteran, she is a fitness enthusiast who has designed physical fitness programs. Bodin holds a Bachelor of Arts in communications from the University of Illinois and a Master of Arts in education from the University of Phoenix.
Photo Credits
Tuayai/iStock/Getty Images