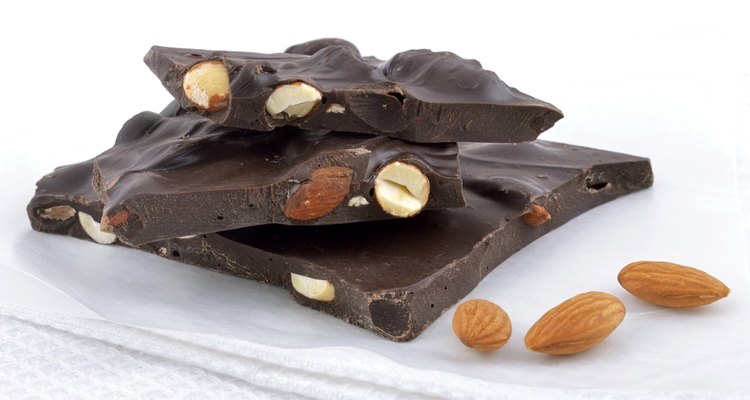 fotogal/iStock/Getty Images
While chocolate almond bark isn't the healthiest snack to much on, it is certainly one of the tastiest. It has few ingredients, rich flavors and a natural sweetness, and it's portable, easy to make at home and simple to give as a gift. The most nutritious varieties are made with very dark chocolate, which may have certain health benefits.
Nutrition Facts
Nutritional information for chocolate almond bark varies according to specific ingredients. A version from AllRecipes.com has about 8.5 g fat, 5 mg cholesterol, 14 g carbohydrates and negligible amounts of sodium, fiber and protein per serving. A cran-almond bark recipe from the December 2005 issue of "All You" magazine, however, has about 250 calories, 15 g fat, no cholesterol, 30 g carbohydrates, 4 g protein, 4 g fiber and no sodium per serving.
Calories
Calorie count for chocolate bark can vary widely depending on a number of factors, most notably ingredients and serving sizes. The AllRecipes.com bark has 130 calories per serving, while the cran-almond bark has nearly 250. The 130 calories in the AllRecipes.com version come from just over 2 tbsp. of bark, but the "All You" recipe classifies a serving as closer to 1/3 cup of of bark.
Ingredients
The ingredient list for most chocolate bark recipes is short and simple. AllRecipes.com calls for just chocolate chips, slivered almonds and shortening, and "All You" nixes the shortening but adds dried cranberries. It's also common to see melted butter or other types of nuts and dried fruit in finished versions of chocolate bark. Sometimes, the bark is sprinkled with craggy sugar or candy garnishes before it is chilled and served.
Alternatives
It's simple to down many more calories and grams of fat than you intend by snacking on almond bark if you don't take care to keep serving sizes in check. However, there are also a few things you can do to boost the nutritional value of the recipe you use. Pick unsweetened varieties of dried fruit to eliminate extra sugar, and choose unsalted almonds to go without excess sodium. Finally, use minimally processed, very dark chocolate instead of milk chocolate or white chocolate. According to the Cleveland Clinic, minimally processed dark chocolate contains beneficial flavonoids and antioxidants which can help the body combat damage caused by free radicals.
Considerations
If you're watching your weight, dealing with a chronic disease or trying to improve your nutrition and health, indulging in chocolate almond bark may do more harm than good in the long run. However, eating moderate amounts of the treat can work successfully in a balanced diet as long as most of the foods you eat come from MyPyramid's five recommended food groups: whole grains, vegetables, fruits, lean proteins and nonfat dairy.
References
Writer Bio
Carly Schuna has been freelance writing and editing for more than a decade. In the lifestyle sector, her specialty areas are wellness, food/drink, and entertaining. With hundreds of recipes and nutrition-focused articles in her portfolio, Carly loves helping readers put a healthy spin on classics in the kitchen without sacrificing taste.
Photo Credits
fotogal/iStock/Getty Images