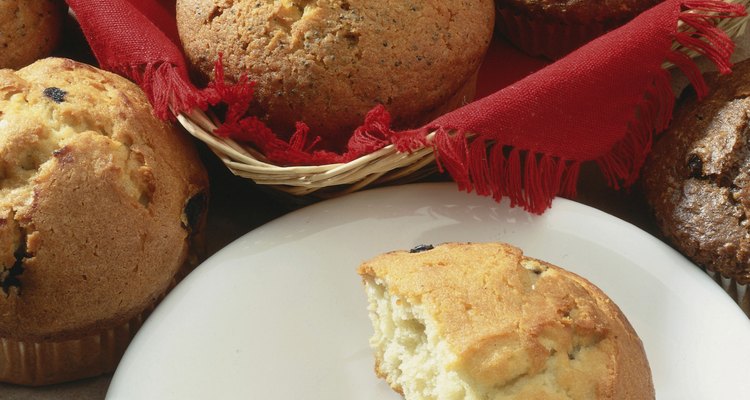 Ablestock.com/AbleStock.com/Getty Images
Use Greek yogurt instead of butter when you're baking to reduce fat in your finished product while keeping it moist and tender. Since baking relies more heavily than other cooking techniques on the exact chemistry between ingredients, remember some general rules to avoid wasted effort and disappointing results. Whichever substitution method you use, Greek yogurt will add richness and a tangy flavor reminiscent of buttermilk to your baked goods, along with the heart-healthy benefits that come from reducing fat.
Substitution Basics
Substitute plain, non-fat Greek yogurt for butter in your baked goods at a 1 to 1 ratio. For example, if your recipe calls for 1/2 cup of butter, you can safely substitute 1/2 cup of Greek yogurt; however, experts don't recommended that you this method for amounts over 1 cup. The yogurt increases the moisture content in the recipe, and too much can result in soggy muffins or cake. To avoid this problem, try increasing the flour in the recipe by about 1/4 cup or reducing the liquid in the recipe by approximately that same amount.
Substitute Just Half
Another way to substitute Greek yogurt for butter in a baked goods recipe is to just replace half the butter with an equal amount of yogurt. In this case, for a muffin recipe that calls for 1 cup of butter, use 1/2 cup of Greek yogurt and keep the other 1/2 cup of butter. This, of course, does not reduce the fat content of the food by quite as much, but it reduces the risk of altering the texture of the final result.
Sheep's Milk vs. Cow's Milk
Greek yogurt is often made from sheep's milk, which has a different chemical composition than the cow's milk from which butter is typically made. Sheep's milk has less lactose than cow's milk, so Greek yogurt is also a workable substitution for individuals who find lactose difficult to tolerate.
Liquid Assets
Baked goods that require melted butter can pose additional challenges when you try to substitute Greek yogurt. Because Greek yogurt is strained, it has a thicker, creamier texture than regular yogurt. Therefore, it acts much more like a solid than a liquid in a recipe, and substituting it for melted butter will result in a thicker cake batter or more dense bread dough. Increasing the amount of other liquids in the recipe slightly will help remedy this.
References
Writer Bio
Andrea DeShazo has been writing and editing lifestyle articles since 2003. DeShazo has written for several major daily newspapers in Montana, Colorado and New Mexico. She has also taught writing to community college students on the Navajo Nation in northwestern New Mexico. DeShazo has a Master of Arts in journalism from the University of Montana, and currently writes about food and gardening from her home in the Raleigh, N.C. area.
Photo Credits
Ablestock.com/AbleStock.com/Getty Images