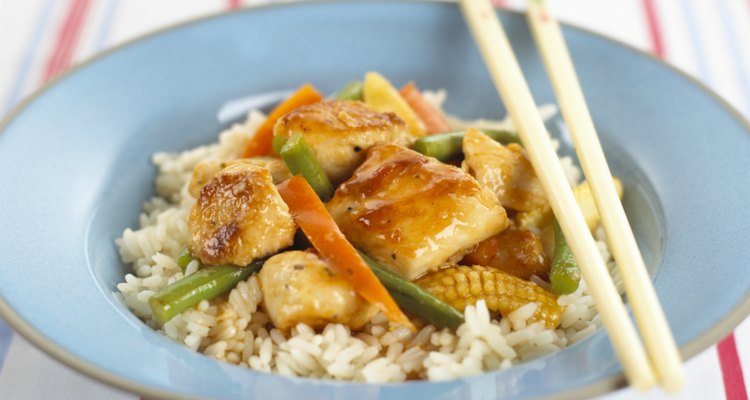 Dave King/Dorling Kindersley RF/Getty Images
Quorn is developed from a fungus called Fusarium venenatum, a relative of mushrooms and truffles, which was discovered in the 1960s in England. It is a protein-rich food that makes it a suitable substitute for protein-rich chicken products. Today, Quorn is made in a number of different forms, most of these aiming to supplant chicken in people's diets. Although specific recipes may vary, Quorn products tend to have similar nutritional values. Two such foods are Quorn Chicken Cutlets and Quorn Chicken Style Pieces.
Calories
Quorn Chicken Style Pieces have 90 calories in a 1-cup serving, while Quorn Chicken Cutlets contain 80 calories. This is an improvement in calories over grilled chicken breast, which has around 130 calories in a 4-oz. serving.
Fat
Chicken breast is considered the leanest part of a chicken. Because of this, it would be difficult to improve upon the fat content of this food, which contains only 1g of fat per serving, or 2 percent of your daily needs. Quorn Chicken Style Pieces, by contrast, contain 2g of fat per serving, while Quorn Chicken Cutlets feature 2.5g.
Carbs
A grilled chicken breast contains no carbohydrates. This is a significant difference from Quorn products, which are advertised as having as much dietary fiber -- a type of carbohydrate -- as some vegetables, such as broccoli. Both Quorn Chicken Style Pieces and Chicken Cutlets contain 5g of carbohydrates per serving. Quorn Chicken Style PIeces contains 5g of dietary fiber, constituting 20 percent of your recommended daily intake.
Other Nutrients
Grilled chicken breast still exceeds the nutritional value of Quorn products in terms of protein. A single grilled chicken breast contains 27g protein, or 54 percent of your daily protein needs. By contrast, Quorn Chicken Style Pieces contain only 12g protein per serving, with Quorn Chicken Cutlets contributing 11g. Neither is a significant source of vitamins and minerals. Although Quorn Chicken Cutlets have 2 percent of your daily cholesterol needs, Quorn Chicken Style Pieces contains no cholesterol. Grilled chicken breast contains 68mg cholesterol per serving, or 23 percent of your recommended daily intake.
Considerations
According to a September 2009 report in the "Los Angeles Times," the manufacturers of Quorn products came under attack for not reporting the potential for some individuals to experience an allergic reaction to the main fungal ingredient in Quorn products. For this reason, be careful of any possible allergies to the food and avoid Quorn if you are aware of an allergy to the fungus.
References
Writer Bio
Jonathan Croswell has spent more than five years writing and editing for a number of newspapers and online publications, including the "Omaha World-Herald" and "New York Newsday." Croswell received a Bachelor of Arts degree in English from the University of Nebraska and is currently pursuing a Master's of Health and Exercise Science at Portland State University.
Photo Credits
Dave King/Dorling Kindersley RF/Getty Images