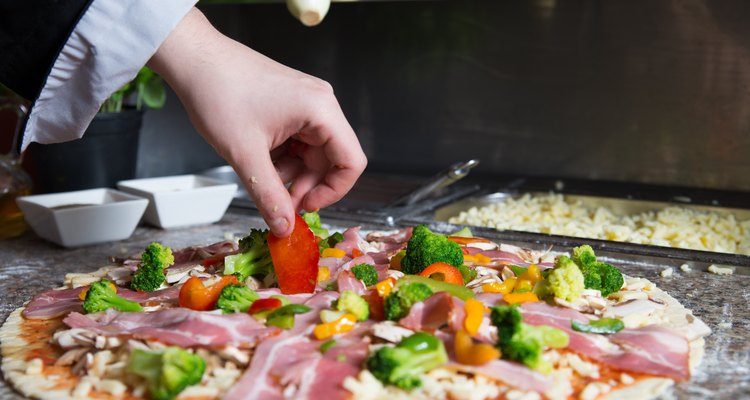 Photografeus/iStock/Getty Images
Vegetable pizza with whole wheat crust sounds as healthful as pizza can get, but it still might not be low in calories. If full-fat cheese and oil-fried veggies are involved, calories can easily climb. No amount of whole-grain goodness can take away excessive calories.
Make Your Own Pizza
Wheat Foods' pizza crust for a 12- to 14-inch pizza has 146 calories per 1/8 crust. Whole wheat flour is naturally low fat, and only 1 tbls. each of sugar and oil are added. If you know each ingredients' individual calorie contribution, you can calculate the whole and divide by the number of servings. For reference, the U.S. Department of Agriculture indicates part-skim mozzarella as having 576 calories; tomato sauce, 59 calories; and broccoli, spinach, mushrooms and red peppers 35 to 45 calories per cup each.
Other Recipes
Two slices of KidsHealth's whole wheat veggie pizza contains 395 calories in contrast to "traditional recipe's" 509 calories Cook Eat Share's two-slice serving contributes 213 calories based on the entire recipe's 924 calories.
Commercial Pizza
Papa John's Whole Wheat Crust Garden Fresh pizza provides, for its small, medium, large and extra-large slices: 180, 200, 280, and 310 calories respectively. Per Calorie King, 1/6 slice of Pizza Pizza's Classic Garden Veggie pizza has 600 calories. Pizza Hut lists no whole wheat options, but 1/8 slice of its regular Garden Delight pizza has 230 calories.
References
Resources
Writer Bio
Based in New York City, Fiona Bayly writes about running with a focus on health, nutrition and training strategies for athletes from beginner to professional. She is an avid triathlete, former New England Scholastic Cross Country champion and current member of TeamUSA's age-group championship team in the sport of Aquathlon.
Photo Credits
Photografeus/iStock/Getty Images