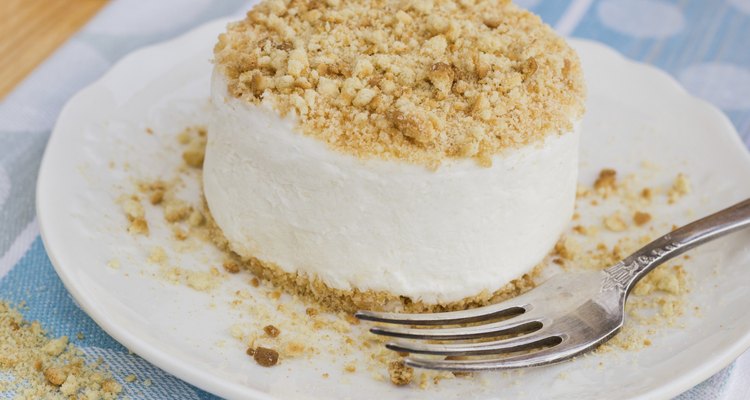 tata99may/iStock/Getty Images
A mini cheesecake is a smaller version of an ordinary cheesecake. You can find a recipe that calls for using miniature muffin tins, a cupcake pan or even a slightly larger muffin pan. While known for being sweet and creamy, even when using as many low-fat alternative ingredients as possible, a traditional cheesecake will always be high in saturated fat and sugar.
Nutrition Data
Your nutrition facts depend on the recipe and ingredients you use. A plain cheesecake will have fewer calories than, say, a cake with added fruit filling or chocolate. The USDA's National Nutrient Database reports that one piece of a traditional plain cheesecake, at 80 g, contains 257 calories, 18 g of fat, 44 mg of cholesterol, 166 mg of sodium, 20 g of carbohydrates, 0 g of fiber and 4 g of protein. A slice from a traditional sized cheesecake can be one or two times the size of a mini cheesecake. To reduce your calorie intake, make the cherry cheesecake from the recipe on the website All Recipes, which calls for using mini muffin pans. One cake contains 95 calories with 4.8 g of fat.
Low-Fat Version
The website Food.com offers a mini cheesecake recipe that calls for using fat-free cream cheese and frozen fruit in syrup, which can slightly lower the fat and calorie content. In a 90 g serving, this cake contains 149.1 calories, 2.5 g of fat, 38.2 mg of cholesterol, 236.8 g of sodium and 18.4 g of sugar.
Size
What distinguishes a mini cheesecake from an ordinary cheesecake is the size. While there's no official definition of a mini cheesecake, it's up to you if you want your cakes to be the size of cupcakes, finger cakes or muffins. A cupcake is typically 43 grams. A muffin pan can range from 31 grams up to 120 grams. Your nutrition content will vary widely based on the size you choose to bake.
Ingredients
All cheesecakes will contain cream cheese, sugar and eggs. A fruit cheesecake will call for a can of fruit pie filling. For slightly less fat, you can make a cheesecake using low-fat or nonfat cream cheese. The website All Recipes explains, however, that reduced fat and nonfat cream cheese contain fillers that can prevent your cake from setting properly.
Nutrients
Cheesecake does not have to be a poor source of vitamins. In fact, a commercially prepared version can contain about 9 percent of the recommended daily allowance of vitamin A, 1 percent of vitamin C, 4 percent of calcium and 3 percent of iron. Note, however, you do not want to get your RDA of any vitamins or minerals through a high calorie, high saturated fat dessert like cheesecake if the portions are mini.
References
Writer Bio
Shannon Marks started her journalism career in 1994. She was a reporter at the "Beachcomber" in Rehoboth Beach, Del., and contributed to "Philadelphia Weekly." Marks also served as a research editor, reporter and contributing writer at lifestyle, travel and entertainment magazines in New York City. She holds a Bachelor of Arts in literature from Temple University.
Photo Credits
tata99may/iStock/Getty Images