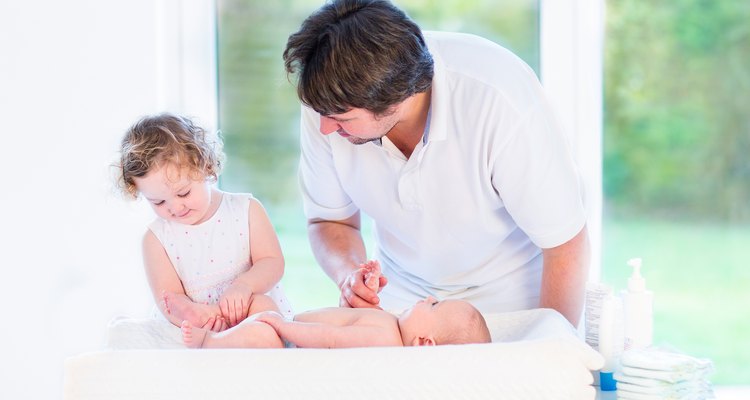 FamVeld/iStock/Getty Images
Lanolin is taken from sheep's wool and put in ointments used to treat various skin ailments including diaper rash and extremely dry patches on infant skin. Corona brand lanolin products are made for animals but are sometimes recommended by parents for the treatment of diaper rash because it is so thick and water resistant. Parents should discuss its use on their baby with a health care professional.
Use a cotton swab or other applicator to collect a small amount of Lanolin Corona from the container.
Rub the ointment over the diaper rash, patch of dry skin or other similar skin irritation. Use only a small amount the first time you apply it to your baby's skin.
Diaper the baby or clothe as usual.
Monitor the baby for adverse reactions to the ointment. It is possible for the baby to be allergic or sensitive to the lanolin.
References
Tips
Allow the baby to go without a diaper as often as possible to help heal a diaper rash.
Typically this form of lanolin is only safe for external use and not for the treatment of a mother's nipples during breastfeeding due to the baby ingesting small amounts of the ointment.
Warnings
Do not use lanolin on the baby's face or inside any part of her body.
Consult a health care professional immediately if lanolin is ingested or enters the baby's eyes or nose. Contact poison control or 911 if more than a small amount is ingested.
Signs of allergy or adverse reaction to lanolin, as indicated by MedlinePlus, include rash, swelling, diarrhea and vomiting. These symptoms require medical attention.
Writer Bio
Sarah Harding has written stacks of research articles dating back to 2000. She has consulted in various settings and taught courses focused on psychology. Her work has been published by ParentDish, Atkins and other clients. Harding holds a Master of Science in psychology from Capella University and is completing several certificates through the Childbirth and Postpartum Professional Association.
Photo Credits
FamVeld/iStock/Getty Images