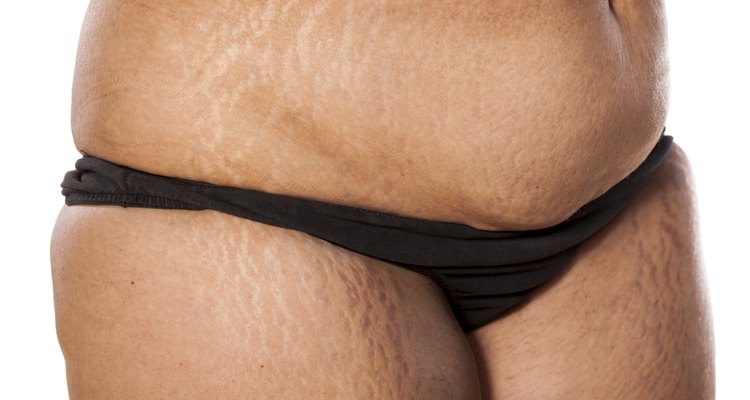 VladimirFLoyd/iStock/Getty Images
Stretch marks are unpreventable during pregnancy, notes The March of Dimes, and they can be difficult to get rid of them. When you're African American, your stretch marks likely take on a dark brown or purple hue which makes them stand out on your dark skin. Most makeup and concealer solutions for stretch marks are made for Caucasian women, so finding the right brand and shade for your skin is an important part of covering your stretch marks.
Visit a department store that offers free makeup samples to get the ideal colors and foundations for your skin. It's important to note that the skin on your stomach may be lighter or darker than the skin on your face. Explain to the cosmetics counter that you'd like to find a concealer that is one shade lighter than your stomach to cover scarring if you're embarrassed. Then, the makeup counter associate can use a small sample of skin just above your hip bone to match colors.
Dab the concealer on with your middle finger. Your index finger may apply makeup with a heavier hand, and it's better to build up several layers of concealer than using one thick layer instead. Use the concealer to bring the stretch mark flush with the skin for a smoother appearance. Since your stretch marks are darker than your skin, a lighter concealer can hide any darkness.
Pour a small amount of a dark foundation on a clean makeup application sponge. Use the sponge to dab foundation over the concealer and then 2 inches in each direction for the most natural look. Your foundation should be closer to your natural skin color than your concealer to blend over the concealer.
Brush a dark powder over the makeup to set it and mimic the natural texture of your skin. Cover Girl, M.A.C. and Sephora all have makeup lines specifically made for African-American women, so it should be fairly easy to find a darker translucent powder to match your specific skin tone.
See your aesthetician about permanent makeup if you tend to cover your stretch marks often and they make you feel self-conscious. Since stretch marks damage the connective tissue on the skin, creams and ointments won't get rid of them over time. The book "Permanent Makeup and Reconstructive Tattooing" recommends that you have them permanently covered in your exact skin tone instead.
References
"Permanent Makeup and Reconstructive Tattooing" ; Eleonora Habnit
Writer Bio
Kay Ireland specializes in health, fitness and lifestyle topics. She is a support worker in the neonatal intensive care and antepartum units of her local hospital and recently became a certified group fitness instructor.
Photo Credits
VladimirFLoyd/iStock/Getty Images