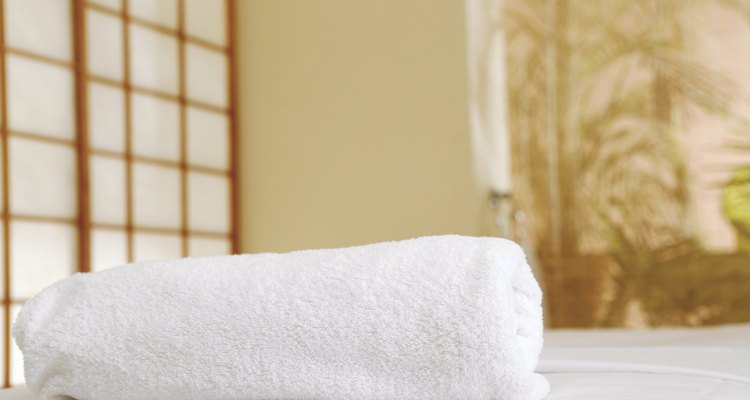 Comstock Images/Stockbyte/Getty Images
Loose skin can be a result of losing weight quickly and can also occur naturally as people age. For others, it's just the way their bodies are made. Having loose skin shouldn't keep you from getting a massage. Special care should be taken with loose skin to avoid hurting the person being massaged, damaging skin or giving an ineffective massage by not accessing the muscle tissue.
Use your hands, forearms or fingers to apply compression to areas of loose skin, rather than simply sliding hands up and down the back, arms or other areas. In someone with loose skin, using traditional massage moves such as long, smooth motions up and down the arm or leg can pull on the skin and cause pain. It might also embarrass the person. Instead, push into tight areas to access the muscles.
Avoid the use of massage oil when massaging someone with loose skin. Either do the massage dry, or use a thicker massage cream or lotion so the skin is not so slippery. This will make compression techniques easier. If you apply lotion for the massage and then realize that it is too difficult to work on the area in this way, use the towel to wipe the lotion off, or lay the towel across the area; gently squeeze and compress the muscles through the towel.
Massage the face without lotion. Loose skin on the face tends to be delicate. Use your fingertips to rub careful, but firm, circles along the jawline, forehead and cheeks, pressing in on the muscles without dragging unnecessarily on the skin.
Grab large muscles, such as those in the upper back, and gently pull to relieve muscle tension. When doing this on someone with loose skin, make sure to grab the muscle and not just pull on the skin. If skin is so loose this doesn't seem possible, use your thumbs to push into these areas instead.
References
Tips
If the person being massaged is sensitive about his loose skin, take special care to make sure as much of the person's body is covered during the massage as possible; only uncover each area as it is being worked on.
The techniques outlined can also be used effectively on a person with a good deal of body hair, to avoid pulling on hair and hurting the client.
Writer Bio
Kathy Gleason is a freelance writer living in rural northern New Jersey who has been writing professionally since 2010. She is a graduate of The Institute for Therapeutic Massage in Pompton Lakes, N.J. Before leaving her massage therapy career to start a family, Gleason specialized in Swedish style, pregnancy and sports massage.
Photo Credits
Comstock Images/Stockbyte/Getty Images