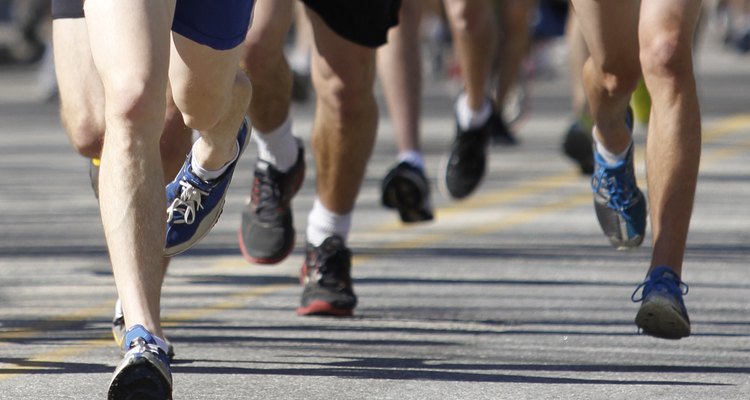 peterdharwood/iStock/Getty Images
Goodie bags for a 5K run aren't only a way to entice runners to participate, but also a way to score sponsors for your event. After all, active runners are the ideal target for a number of sponsors, Mark Beal, a public relations expert tells "The New York Times." By packing your goodie bags full of stuff that runners will actually use after the race, your sponsors get the most exposure and your participants leave the race happy.
Tell vendors in your area that you're looking for sponsors to help support the race and fill runner goodie bags. Give parameters for the bag inclusions, such as samples, coupons and fliers, along with the number of bags you'd like to fill. As Beal points out, the people who participate in races are the same active people who like to try new products, particularly if they're runner-centric.
Start with some post-race nutrition. A few energy bar samples, trail mix or fruit leather can be a treat after the 5K. The book "3 Months to Your First 5k" recommends runners refuel with a carbohydrate-rich snacks after the race, along with a bit of protein. Including a snack in your goodie bags will be a welcome addition for weary runners.
Add some type of hydration to the bag as well. Whether it's a small bottle of water or a sample electrolyte drink, runners will be thirsty and can have something to drink while waiting at the finish line or for the awards portion of the race to start.
Ask sponsors to give items for runners' skin, face and body. Lip balm, lotion and even a small tube of muscle cream can help runners in their post-run recovery. Even if a sponsor doesn't manufacture a skin or body item, they can use their own labels to still advertise their company while offering useful products and goodies to grateful runners.
Spend some of your race budget on memorabilia and race "swag." Those who complete a 5K may want something to remember the experience by, so a hat, T-shirt or even a silicone bracelet is a cost-effective and impactful way to fill out a post-race goodie bag.
References
Writer Bio
Kay Ireland specializes in health, fitness and lifestyle topics. She is a support worker in the neonatal intensive care and antepartum units of her local hospital and recently became a certified group fitness instructor.
Photo Credits
peterdharwood/iStock/Getty Images