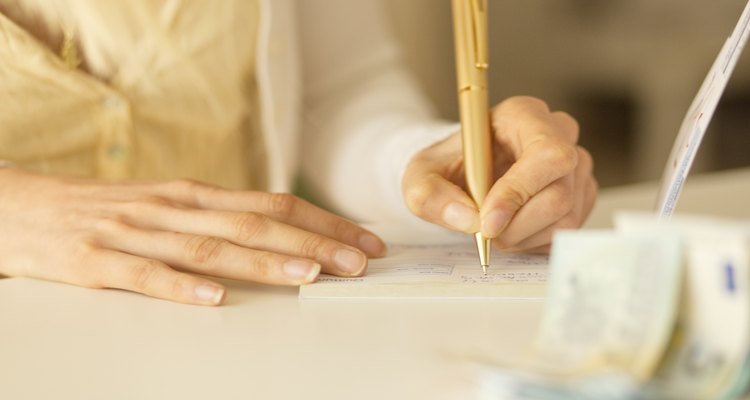 snowflock/iStock/GettyImages
Learn How and When to Void a Check
Not many people use checks anymore. In fact, some companies will only pay you electronically through direct deposit, but this payment may be based on the bank information initially provided on a voided check. If you do still use checks, you may need to void a check which you mistakenly filled out. Voiding a check is easy.
How to Void a Check?
In its simplest form, you can void a check from your checkbook. You just write the word "VOID" on the face of the check in dark ink or using a marker. Just don't cover up the account information on the bottom left of the check. Voided checks can't be used for anyone to get money out of your bank account. If you write a check first and then need to void it, use the same method even if it has all of the information on it. Make a notation in your checkbook register with the check number and "void" in the pay to line so you'll know it is voided when you balance your checkbook at month's end.
Where Do You Get a Voided Check?
Let's say you need a voided check to set up direct deposit with your employer. What do you do if you don't have checks? This is easily solved by visiting your bank. You can just swing by the bank while your kids are at school. It only takes a few minutes to get a new voided check.
Ask the teller at the bank for a counter check. Counter checks look identical to your checks in your checkbook but without your name and address on the top. You'll need to add this information by hand. The teller will print one out for you on which you write "VOID," as you would do with a regular check. Make sure you don't cover any of the long number on the bottom left of the check though, as it contains a routing number for your bank, your account number and the check number, all of which are needed to set up your direct deposit.
Some Alternatives to Voiding a Check
You may ask your employer or the business requesting a voided check if you can give the payroll department a deposit slip instead. Usually, this has to be pre-printed with your information on it. If you have checks, you can find deposit slips in the back of your checkbook.
Check with your bank and see if you can enroll in online banking. Many online systems include an online form to fill in your banking information for direct deposits or to set up automatic payments from your account.
You can get a letter from your bank on its letterhead that lists your account number, account type and routing information in lieu of a voided check.
It's a good idea to make copies of a voided check before you give it to an employer or business that is requesting it. You can then use the same voided check repeatedly without the need to go through the process again in the near future.
References
Writer Bio
Mary Lougee has been writing for over 10 years. She holds a Bachelor's Degree with a major in Management and a double minor in accounting and computer science. She loves writing about careers for busy families as well as family oriented planning, meals and activities for all ages.