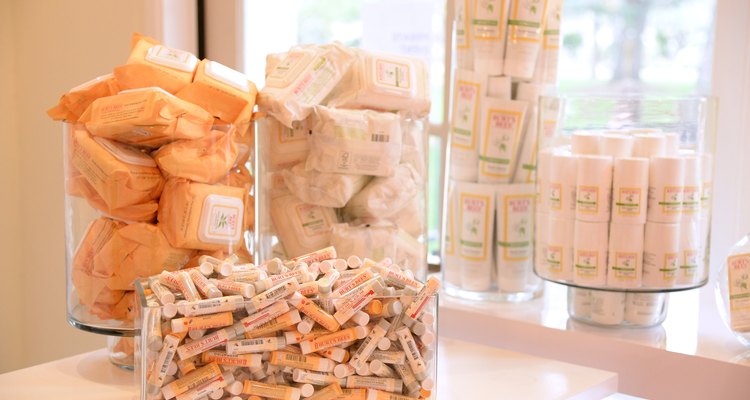 Jason Merritt/Getty Images Entertainment/Getty Images
The Burt's Bees company has been making and selling personal care products for over 25 years. All products made by Burt's Bees contain natural ingredients, and no phthalates, petrochemicals, parabens or sulfates. As a member of the Natural Products Association, Burt's Bees is committed to using safe ingredients derived from sustainable sources without animal testing. Environmentally-friendly packaging is also part of the company's earth friendly pledge. Public education about what "natural" means in products and advertising is also part of the Burt's Bees mission.
Beeswax
Bees produce beeswax in the cell walls of honeycombs. The wax remains after the honey has been extracted. Beeswax is used as a natural emulsifier in skin care products and cosmetics. As an ingredient in moisturizing lotions, beeswax forms a protective seal for the skin, helping retain moisture while preventing dryness.
Alpha bisabolol
Alpha bisabolol is derived from German chamomile. It is a non-toxic liquid that has been used medicinally in Europe for centuries as a skin healing agent. It has soothing anti-inflammatory properties as well as anti-bacterial action. This natural ingredient is used in skin care, hair care, and oral care products.
Burdock Root Extract
Burdock is a traditional herbal remedy for skin and scalp problems. It contains essential fatty acids that help control flaky dandruff while improving the condition and appearance of hair.
Lavender Oil
Lavender oil is distilled from the blossoms of French lavender. It is used for its fragrance, but it also has properties that aid in skin conditioning and healing. As an emollient in skin care products, lavender oil soothes and conditions skin, while its antibacterial and antiseptic properties help cure rough, chapped skin.
Coconut Oil
Coconut oil is a main ingredient in Baby Bee Shampoo & Wash. Coconut oil is combined with sunflower oil and soy protein to make a cleansing liquid that is gentle and safe for baby's most delicate skin. Use this moisturizing product to bathe a baby or use as a gentle shampoo.
Oat Oil
Rich in antioxidants with a penetrating form, oat oil is used to soften skin and improve elasticity. Safe for all sensitive skin, oat oil can be used on people of all ages, from infants to the elderly, without fear of side effects. Skin care products that contain oat oil provide relief for irritated skin and aid healing.
Pomegranate Extract
Pomegranate extract contains a high concentration of antioxidant compounds, including anthocyanidins, which are what gives the fruit its red pigmentation. Pomegranate extract helps protect skin and hair from environmental conditions that can cause dryness, itching or rashes. It is an ingredient in Naturally Ageless® Skin Firming Night Crème and other Burt's Bees moisturizing and anti-aging products.
References
Resources
Writer Bio
Fern Fischer's print and online work has appeared in publications such as Midwest Gardening, Dolls, Workbasket, Quilts for Today and Cooking Fresh. With a broader focus on organic gardening, health, rural lifestyle, home and family articles, she specializes in topics involving antique and modern quilting, sewing and needlework techniques.
Photo Credits
Jason Merritt/Getty Images Entertainment/Getty Images