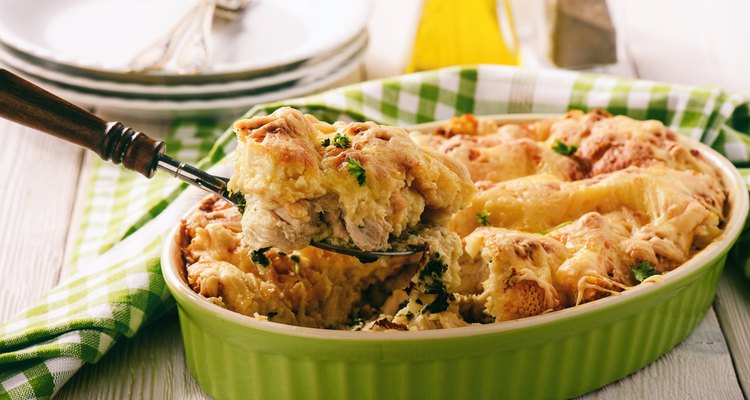 iko636/iStock/GettyImages
Make and Bake a Savory Casserole for the Morning Meal
Savory or sweet, meaty or vegetarian, breakfast casseroles – often called stratas – give you plenty of choices for ingredients, so you can alter recipes to suit your family's preferences. With prepared ingredients, cooking stratas is simple.
Choose your cooking method depending on how busy you are. You can prepare the casserole one day, refrigerate it overnight then bake it in the next morning, covered for 20 minutes and uncovered for an additional 15 minutes. Or, prepare and bake the dish the night before and warm it up slowly the next morning, covered with foil.
1. Canadian Bacon and Cheese Strata
With Canadian bacon, you skip the messy and time consuming step of cooking slab bacon for the breakfast casserole. Simply chop a 6-ounce package of Canadian bacon into bite-size pieces, and add 2 cups of either cheddar or Jack cheese that you've bought already shredded. Stir in a small can of diced green chiles if you want to spice-up the recipe. Mix these ingredients with 4 cups of cubed bread, and pour a mix of 8 eggs, 2 cups of milk, salt and ground black pepper over the top.
2. Veggie Strata
A simple vegetarian casserole contains whatever leftover vegetables you can easily reach from your fridge. Chop the veggies with a rough-size chop and add them to 4 cups of bread cubes in the casserole dish. Pour a mix of 8 eggs and 2 cups of milk over the bread and veggies. Vegetables could include bell peppers, broccoli, green beans and zucchini. If you're out of leftovers, microwave a package of frozen spinach, let it cool, then squeeze out excess moisture, and stir it into the egg-milk mixture before pouring it over the bread.
3. French Toast Casserole
A French toast breakfast casserole consists of layers of buttered bread drenched in the egg-milk mixture. Use about nine slices of bread to serve four people for this recipe. Pour the egg and milk mixture over the bread, using a blend of 8 eggs, 2 cups of milk, 2 tablespoons of brown sugar and 1 teaspoon of cinnamon. To brighten up all the flavors and balance the sweetness of the dish, add a ½ teaspoon of lemon zest to the egg and milk. Use raisin cinnamon bread to add even more flavor.
4. Traditional Bread Pudding
Served mainly as a rich dessert, classic bread pudding works equally as well as a breakfast casserole. Increase the egg to milk ratio to make the pudding more custardy, so use 10 eggs and 2 cups of milk for four people, but keep the bread cubes at 4 cups. Raisins, currents or dried cranberries add flavor, sweetness and extra nutrition. Make bread cubes from either leftover bread that is beginning to go stale, any bread that you happen to have on hand, or something special like egg bread or Italian panettone left over from a holiday dinner.
5. Rice Pudding
Rice pudding turns into a healthy and hearty breakfast when you use brown rice. To keep the recipe easy, choose frozen, pre-cooked rice, and defrost it in the microwave. This recipe keeps things easy because you can mix all the ingredients together in one large mixing bowl. For six people, stir together 2 cups of rice, 6 eggs, 4 cups of milk, a few tablespoons of sugar, a teaspoon of vanilla extract, ½ teaspoon salt and either raisins, chopped apricots or chopped figs. Bake the pudding for 1 ½ hours in a 325F degree oven set in a pan of water, so the eggs cook as gently as possible.
6. Tex-Mex Casserole
Go Tex-Mex for breakfast with a layered casserole that has your favorite Mexican flavors and textures. Beginning with a layer of corn tortillas cut into quarters at the bottom of your casserole dish, then add a layer of canned black beans that you have rinsed and drained, followed by a few cups of shredded cheddar cheese and, finally, another layer of tortillas. Stir about ½ cup of prepared salsa to a mix of 8 eggs and 2 cups of milk, and pour the mixture over the top of the casserole.
References
Writer Bio
Susan Lundman began writing about her love of cooking, ingredient choices, menu planning and healthy eating after working for 20 years on children's issues at a nonprofit organization. She has written about food online professionally for ten years on numerous websites, and has provided family and friends with homemade recipes and stories about culinary adventures. Lundman received her M.A. from Stanford University.