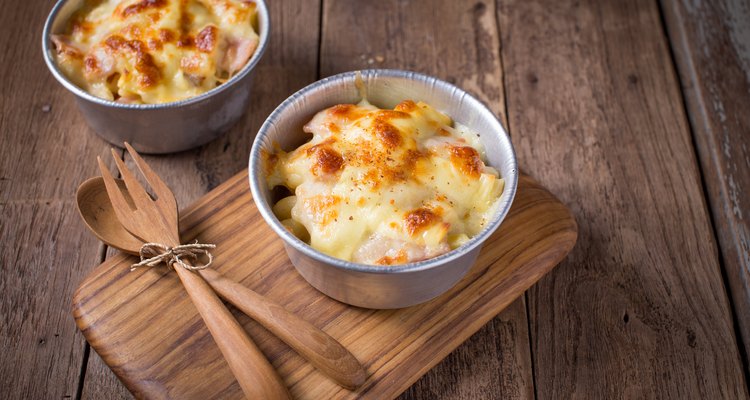 Wanrut/iStock/GettyImages
Crowd-Pleasing Comfort Food
It's well worth your precious time to make au gratin potatoes from scratch. The side dish can be the star of the meal, especially if you add extras such as bacon or chives. Some traditional recipes call for slicing raw potatoes and cooking them from start to finish in the oven. This version speeds up the cooking process by boiling the potatoes ahead, reducing their oven time. Save an additional step by not peeling the potatoes—the skins have extra fiber and antioxidants. Pair potatoes au gratin with a simple salad for a meal that is both healthy and decadent.
Total Time: 1 hour | Prep Time: 10 minutes | Serves: 6
3 large potatoes, preferably russets
4 tablespoons butter and a little extra to grease the pan

4 tablespoons unbleached white flour or whatever flour you have on hand
2 cups whole milk or whatever milk you have on hand
1 teaspoon kosher salt
1 teaspoon prepared mustard
2 1/2 cups grated medium-hard cheese, such as Swiss, fontina or cheddar
1/2 cup crumbled bacon, precooked (optional)
2 tablespoons finely chopped fresh chives (optional)
Heat the oven to 375F.
In a large saucepan, boil water. Add the potatoes and cook at a medium boil for about a half hour.

Meanwhile, use a small saucepan to melt the butter. Add the flour and mix on very low heat to form a reasonably smooth paste. Slowly add the milk, whisking or stirring with a fork to dissolve as many lumps as you can. Stir constantly on low heat until the mixture starts to thicken, about 5 minutes. Add the kosher salt and mustard. Add 2 cups of the grated cheese, reserving 1/2 cup, and stir on low heat until the cheese is fully melted. Add the bacon and chives if desired.
Poke the potatoes with a fork or paring knife to test for doneness. They should be soft enough to puncture easily but solid enough to slice, the firmness of refrigerated butter.
Drain the potatoes when they're ready. Slice them as soon as they're cool enough to handle. You can speed up this wait by putting them in the refrigerator for 5 to 10 minutes.
Grease an 8-by-8 baking dish with butter. Spoon a thin layer of cheese sauce on the bottom of the pan, and then arrange a layer of potato slices. Spoon another thin layer of sauce onto the potato slices, and repeat with the remaining sauce and potatoes. If you have extra sauce after you've used up the slices, spoon it over the layered potatoes. Top with the remaining 1/2 cup of grated cheese.
Bake for 15 minutes or until the top layer of cheese is golden brown.
References
Writer Bio
Devra Gartenstein is a self-taught professional cook who has authored two cookbooks: "The Accidental Vegan", and "Local Bounty: Seasonal Vegan Recipes". She founded Patty Pan Cooperative, Seattle's oldest farmers market concession, and teaches regular cooking classes.