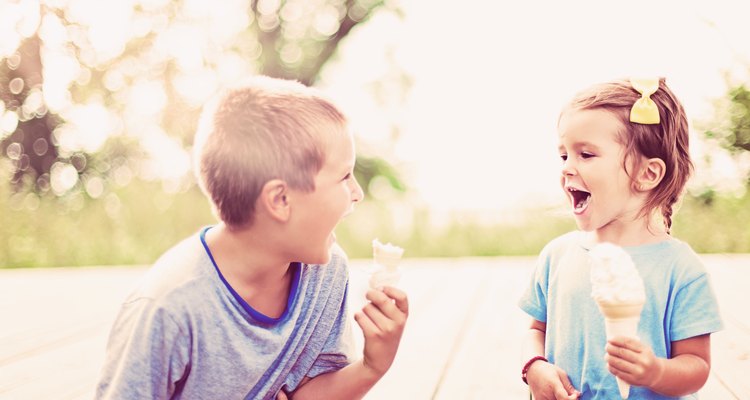 vitapix/iStock/GettyImages
Dessert and a Kid-Friendly Activity, All in One
Kid science activities don't usually result in anything you'd want to put in your mouth, but this one is an exception. It demonstrates the same principle used in old fashioned hand-cranked ice cream machines – that salt lowers the freezing temperature of liquids – but does it in a way that's a lot less work and a lot more fun. The ingredients shown are for one portion, so allow one recipe per kid.
Total Time: 15 minutes | Prep Time: 5 minutes | Serves: 1
1/2 cup of half-and-half or cream

1 tablespoon granulated sugar

1/2 teaspoon vanilla extract

1 to 2 tablespoons chocolate or caramel syrup

2 tablespoons fruit puree, jam, or fruit juice concentrate

2 tablespoons blueberries or sliced strawberries

Non-culinary Ingredients:
4 cups crushed ice

4 tablespoons coarse salt

In a heavy-duty quart-sized freezer bag, combine the cream, sugar, vanilla and any optional flavorings or add-ins you wish to use. Seal the bag, squeezing out as much air as possible.

Place the quart-sized bag inside a gallon-sized bag. Add the ice and the salt and seal the bag, again squeezing out as much air as you can.

Have your youngster put on mittens, because this is going to get very cold – that's kind of the point – and chilblains or frostbite are a real risk. Also, let's face it, wearing mittens in summer is fun.

Rock or tumble the bag continuously until the cream freezes into ice cream, about 10 minutes if your small scientist has been diligent about keeping the bag in motion. Open the outer bag and remove the inner bag containing the ice cream. Wipe the lip of the bag with a clean washcloth to remove any salty brine that might be present.

Turn out the finished ice cream into a bowl, or serve it right from the bag.
References
Writer Bio
Fred Decker is a trained chef and prolific freelance writer. In previous careers, he sold insurance and mutual funds, and was a longtime retailer. He was educated at Memorial University of Newfoundland and the Northern Alberta Institute of Technology. His articles have appeared on numerous home and garden sites including GoneOutdoors, TheNest and eHow.