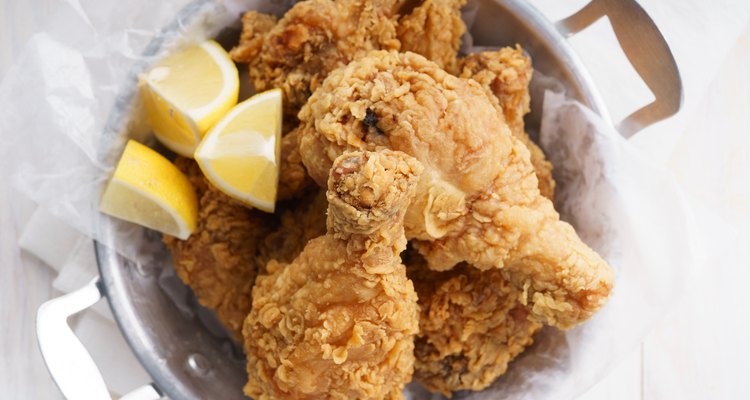 SherSor/iStock/GettyImages
Enjoy a Classic Dish Without Much Fuss
Fried chicken is a decadent meal, but it too often comes from a grease-soaked bucket because making it at home seems too big of a challenge. However, it's not as hard as you might think to recreate the juicy chicken with a crispy crust right at home, as long as you mind a few details. Taking just an hour to prepare from start to finish, this is a meal that you could make even for your family during the week.
Part of the time it takes is waiting 30 minutes for the chicken to come to room temperature – so that's time you can take to help the kids get their homework started, do a load of laundry or perhaps just relax for a few minutes. It's important not to skip this, though, because cold chicken decreases the temperature of the cooking oil during the frying process. If that happens, the skin won't crisp up and the chicken won't cook evenly.
Total Time: 60 Minutes | Prep Time: 20 Minutes | Serves: 6
1 cup all-purpose flour
1 tablespoon paprika

1/4 teaspoon cayenne pepper
2 teaspoons salt

1/2 teaspoon pepper

3 pounds bone-in chicken pieces

1 cup buttermilk
Vegetable oil for frying
Combine the flour, paprika, cayenne pepper, salt and pepper in a shallow dish. Pour the buttermilk into a separate, shallow dish.

Dip each chicken piece in the buttermilk, and then shake off the excess liquid. Coat the buttermilk-dipped chicken with the flour mixture. Shake off the excess.

In a 12-inch nonstick skillet, heat 1/4-inch vegetable oil over medium-high heat. Use a deep-fry thermometer to check that the oil is heated to 360F.

Add the chicken pieces skin side down, being careful not to crowd the pan. You might need to do two to three batches.

Fry the chicken for 10 minutes, or until golden brown. Using tongs, flip the chicken over and let it cook for another 10 minutes. Use a meat thermometer to check that the thickest part of the chicken is properly cooked (170F for breasts, 180F for thighs and legs).

Remove the chicken pieces from the pan and set them on a wire rack that's placed over a baking sheet. Let the chicken cool for 10 minutes, giving it time to both dry off and continue to crisp up.

References
Writer Bio
Kelsey Casselbury is a freelance writer and editor based in central Maryland. Not only a freelance writer, editor, and designer, she is also a mom of a preschooler, a volunteer for two nonprofit organizations, and an avid reader, cook, and piano player. She has a bachelor's degree in journalism from The Pennsylvania State University.