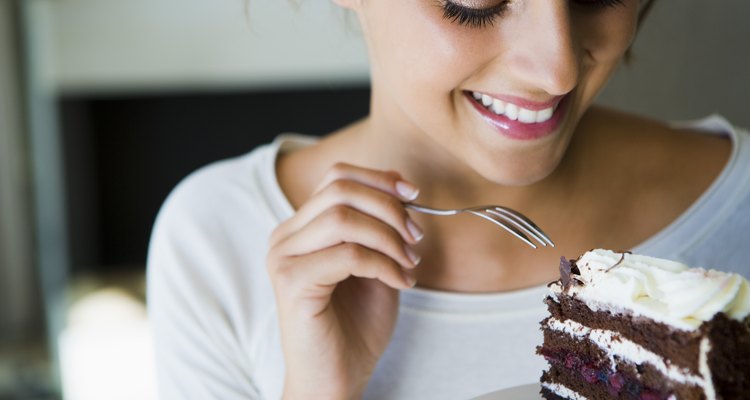 Pixland/Pixland/GettyImages
A Few Tiny Tweaks Go a Long Way
Hands down, box cake mixes have to be one of the greatest convenience foods ever invented: When you've got more dessert-lovers than time, they're a lifesaver. Their only real drawback is a distinctive flavor and texture that marks them immediately as mixes, and that's something you can fix. The next time you turn to a time-saving box cake mix, try these simple tweaks to make it taste and feel more like a scratch-made recipe.
First, Upgrade the Ingredients
Most cake mixes call for you to add just three things: water, oil and eggs. Upgrading those basic ingredients is the first step in upgrading your cake. First, replace the water in the mix with milk. If you're making anything other than a white cake or yellow cake, buttermilk is even better because of the tang it adds. Second, replace the oil with melted butter. Butter gives a richer flavor, so this substitution alone goes a long way toward improving the flavor of the cake. If you add more butter than the box calls for, up to twice the amount, the finished cake will also have a tighter crumb that looks and feels more homemade. That's a lot of butter for the cake to incorporate, so you'll also need to add one more egg. The extra egg helps incorporate the butter into the batter, and it means your finished cake won't be too dense.
Raid Your Cupboard for Flavorings
The commercial flavorings used in box cake mixes are adequate and keep the cost down, but you probably have better selections in your cupboard. Start by adding a splash of good vanilla extract, which works in almost every cake. A tablespoon of cocoa is always a good option with a chocolate cake, and fresh spices from your cupboard are a nice upgrade for spice cake or carrot cake. With white cake or yellow cake, a few drops of lemon extract or almond extract add depth of flavor without being really obvious. Other choices, such as maple extract and rum extract – or rum itself, for that matter – are less universal, but make for an interesting variation from the "same old, same old."
Work Those Add-Ins
Another way to set your cakes apart from the usual is through a judicious use of add-ins. They don't have to be anything fancy, just whatever you think would be good in your specific cake. Chocolate chips, white chocolate chips, butterscotch chips and peanut butter chips are all easy choices, and work with most boxed mixes. So do nuts: Bake pecans or walnuts into a carrot cake, for example, or cover the top of a chocolate cake with sliced almonds. Fresh or dried fruits are always good choices, and you can't go wrong by adding your own fresh-grated carrots to a carrot cake mix.
Make Your Own Icing
The final touch with any cake is its icing, and making your own is one of the surest ways to make your cake taste homemade. You don't need to tackle a pastry chef-style recipe. Even a basic buttercream, made from butter and powdered sugar, is miles better than the spreadable variety from a tub. Cream cheese icing is easy too, and especially good on a chocolate cake, carrot cake or spice cake. If you have a recipe that's a family tradition, like old-fashioned boiled icing or fudge icing, now's the time to pull it out. Just make sure kids and pets are safely shooed from the kitchen before you start working with hot sugar.
References
Writer Bio
Fred Decker is a trained chef and prolific freelance writer. In previous careers, he sold insurance and mutual funds, and was a longtime retailer. He was educated at Memorial University of Newfoundland and the Northern Alberta Institute of Technology. His articles have appeared on numerous home and garden sites including GoneOutdoors, TheNest and eHow.