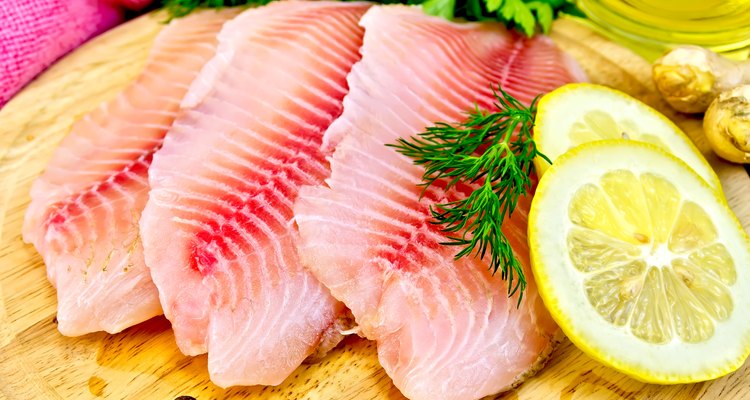 rezkrr/iStock/GettyImages
Get a Protein-Packed Dinner on the Table Fast With These Dishes
After a long day at work, chances are you aren't psyched to spend an hour or more in the kitchen putting dinner together. We hear you. Thankfully, even the easiest meals can be incredibly healthy and deliciously packed with flavor. And if you're looking for quick-but-yummy dinners, using tilapia as the base for your meal is a great option. Because of its mellow taste, tilapia can work with virtually any seasoning – which means you can serve it a lot without your family getting bored. Try one of these four recipes the next time you need some dinner inspo. Savory, sweet, spicy and—yes!—even cheesy, there's something here for everyone.
1. Mediterranean Tilapia
Take a culinary vacation to Italy with this satisfying entree that you can prepare in a snap. Start by seasoning your tilapia with salt, pepper and minced garlic, and then drizzle the fish with olive oil for added flavor. Top with fresh basil leaves, tomato slices and thin slices of fresh mozzarella and bake!
2. Lime and Cayenne Tilapia
If you're looking for a simple and spicy entree, give this citrusy version a try. Preparation is simple—just marinate your tilapia in a mixture of olive oil, lime juice, cayenne, salt, pepper and a handful of chopped fresh cilantro. Transfer to a baking sheet and bake to perfection. Serve garnished with a few more cilantro leaves.
3. Tilapia with Pineapple Salsa
This recipe is perfect if you have leftovers, since you can serve the salsa with other dishes. Season your tilapia with salt, pepper and a squeeze of lime juice, and bake. Top with a generous serving of salsa made from diced grilled pineapple, red pepper, cilantro and olive oil. Use the leftover salsa to top grilled chicken or in burrito bowls.
4. Spiced Harissa Tilapia
If your family likes spicy food, make this North African-spiced dish part of your meal plan. The meal prep is simple. Just coat your tilapia fillets with a spoonful of harissa—a paste made from chile peppers and other seasonings—and bake to perfection. Serve garnished with a squeeze of lemon juice and a couscous salad on the side.
Writer Bio
Sylvie Tremblay holds a Master of Science in molecular and cellular biology and has years of experience as a cancer researcher and neuroscientist. Based in Ontario, Canada, Tremblay is an experienced journalist and blogger specializing in nutrition, fitness, lifestyle, health and biotechnology, as well as real estate, agriculture and clean tech.