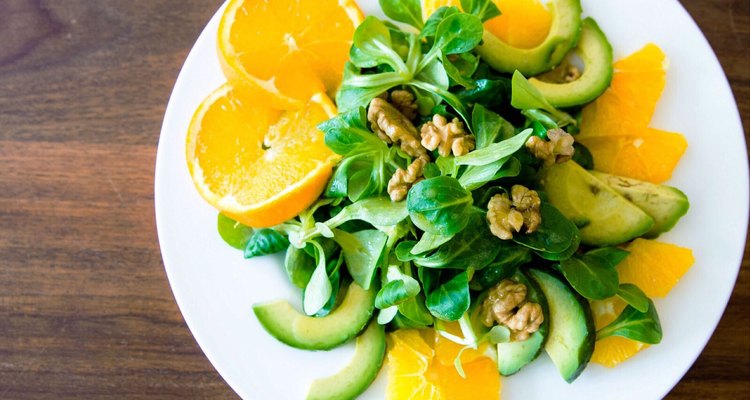 santiago__cervantes/Twenty20
There's a key challenge when it comes to salad. One loaded up with too many toppings and drowning in heavy dressing can pack as many calories as a bacon cheeseburger (yup, really). On the flip side, a too-skimpy salad can leave you with lingering hunger and lacking in key nutrients. The goal: Build one that's just right, so when you're finished you'll feel full (but not too full), satisfied and energized.
This mix-and-match DIY salad guide can help you build a perfectly balanced salad bowl every time. Simply start with a base of greens and add layers using this no-fail formula. We've even included five completed salads to get you started — each one using a different greens base. And if you keep these ingredients on hand you can create dozens of unique combinations yourself. And, yes, it's OK to choose more than one food in each category to keep it interesting.
Melanie Andersen/LIVESTRONG.COM
Go-to Salad Combos
Enjoy these five different salad recipes:
What's Trending Salad
Greens base: Kale
Layer 1: Purple cabbage, red onion, mango
Layer 2: Salmon, chickpeas
Layer 3: Quinoa
Layer 4: Tahini
Layer 5: Minced garlic, lemon juice, turmeric

Whisk garlic, lemon juice and turmeric into the tahini. Place finely chopped kale in your bowl, top with sliced or shredded purple cabbage, minced red onion and diced mango. Add the salmon, chickpeas and quinoa and drizzle with the seasoned tahini.
Canned wild salmon is perfectly OK to use, as are canned chickpeas. If you have time, pat dry the chickpeas and oven-roast them on a baking sheet until they're golden and slightly crispy. This salad is naturally gluten-free. If you're vegetarian or you don't eat salmon for any reason, leave it out — you'll still rack up plenty of protein between the chickpeas and quinoa.
Mediterranean Kitchen Sink Salad
Greens base: Spinach
Layer 1: Tomato, red onion, red grapes
Layer 2: Chicken breast, cannellini beans
Layer 3: Bulgur
Layer 4: Pesto
Layer 5: Ground pepper
In a small bowl, toss the diced, grilled or broiled chicken breast and the cannellini beans in pesto. Place the spinach in a salad bowl, top it with the chicken and beans and add sliced tomato, minced red onion and sliced red grapes. Sprinkle with bulgur, and dust with ground pepper.
If you're crunched for time, buy an all-natural, rotisserie chicken with the skin removed. If you find yourself with extra time, cook the chicken yourself and oven-roast the tomatoes and red onions to enhance their natural sweetness. Hot veggies over crisp greens with chilled fruit can create a mouthwatering texture and temperature contrast that makes this salad even more decadent.
Easy Breezy Southwest Salad
Greens base: Red leaf lettuce

Layer 1: Red bell pepper

Layer 2: Ground turkey, black beans
Layer 3: Corn
Layer 4: Salsa, guacamole
Layer 5: Minced garlic, lime juice, cilantro
Look for ground turkey that's at least 93 percent lean and brown it on the stovetop using a mixture of water, minced garlic and freshly chopped cilantro. Toss the chopped lettuce with salsa, top with the seasoned turkey and black beans, and then add the corn and guacamole. If you're vegetarian or you don't eat turkey for any reason, omit it and up the portion of black beans for more plant-based protein.
Frozen corn is A-OK. Just transfer it from the freezer to the fridge to thaw or, if you have time, oven-roast it on a baking sheet alongside the red bell pepper. Look for a jarred salsa with an ingredient list that reads like a recipe you could have made yourself (in other words no additives you don't recognize or can't pronounce). Same goes for guacamole if you buy it premade. The time-saving shortcut ingredients in this salad make it a quick but incredibly satisfying meal to rely on when you're running behind.
Nutritionist's Nicoise Salad
Greens base: Field greens

Layer 1: Mushrooms, apple

Layer 2: Hard-boiled egg, tuna

Layer 3: Fingerling potatoes

Layer 4: Olive tapenade

Layer 5: Crushed red pepper

In a small bowl, toss the field greens with olive tapenade. Transfer to a salad bowl and top with the sliced mushrooms and chopped apple. Add hot or chilled sliced fingerling potatoes, followed by the tuna and sliced hard-boiled egg. Garnish with a sprinkling of crushed red pepper.
To cook washed fingerling potatoes, slice them lengthwise and place on a baking sheet to roast, or wrap them in foil to grill. Cook until they're soft enough for a toothpick to easily pierce through. Look for tuna canned in water or brands with no water added and fish that's been sustainably sourced. To make this vegan-friendly, omit the egg and trade the tuna for cannellini beans. If you don't like your sweet and savory mixed together, leave off the apple and add more of your favorite crunchy veggies.
Healthied-Up BBQ Chicken Salad
Greens base: Romaine

Layer 1: Purple cabbage, red onion, pineapple

Layer 2: Chicken breast, black-eyed peas

Layer 3: Yam

Layer 4: Barbecue sauce

Layer 5: Dried Italian herb seasoning

Place chopped romaine in a salad bowl. Top with sliced or shredded cabbage, minced red onion and either fresh or canned pineapple chunks. Top with the sliced yam, then the cubed chicken breast and black-eyed peas. Drizzle with barbecue sauce and dust the salad with dried Italian herb seasoning.
All-natural rotisserie chicken with the skin removed is a great option for this salad, as is chicken breast that's been grilled or broiled. If you opt for canned pineapple, look for one that contains only pineapple and 100 percent pineapple juice with no added sugar. If you choose fresh pineapple, oven-roast or grill slices or cubes to up this salad's "fanciness factor." Like salsa, check the ingredients list on barbecue sauces to scope out brands made with all-natural ingredients; and because sauces tend to be sweetened with molasses or brown sugar, try not to be too heavy-handed when you pour.
Writer Bio
Cynthia Sass, MPH, MA, RD, CSSD is the author of "Slim Down Now: Shed Pounds and Inches with Pulses - The New superfood." She specializes in high performance nutrition and optimal wellness.