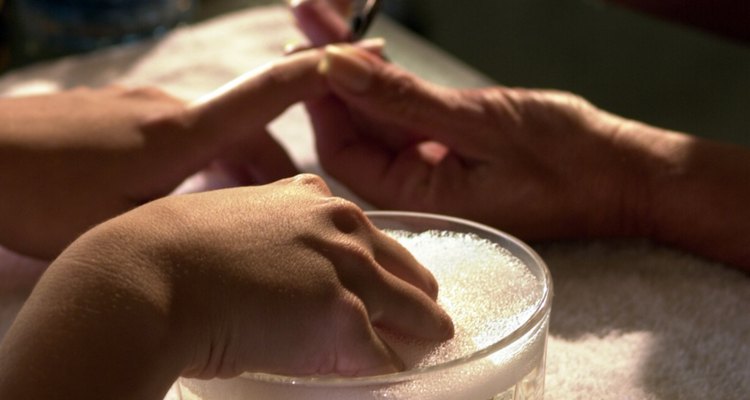 Thinkstock/Comstock/Getty Images
Your hands say something about you, and one way to make sure the message is on point is to pamper them with a manicure. Whether a professional technician performs it, or you do it yourself, it is important to prep your hands properly. The first step in the process is a moisturizing, softening soak.
Moisturizing Lotion
This is one of the easiest ways to make a quality hand soak. Stir about a half-teaspoon of your favorite hand or body lotion into about two inches of warm water in a small bowl. Warm water is more comfortable and relaxing than hot or cold water, which can shock skin. To enhance the experience visually and aromatically, toss in a few flower petals.
Nourishing Oils
Many oils, including lavender and rose, contain skin-friendly ingredients and make the soaking experience more beneficial to the nails and nail beds. Adding a quarter-cup of heated bath oil to a quarter-cup of warm water is one quick and easy option. Many nut oils are light, nourishing and similarly easy to add to a soak. Nutrient-packed oils of coconut, walnut, hazelnut, macadamia nut or almond can enhance the soak experience while adding a pleasant aroma. Add a few drops of the preferred oil to warm water, insert fingers, close your eyes and relax.
White Vinegar
Distilled white vinegar relieves dry skin and disinfects while softening cuticles. Because it is mildly acidic and most effective for a soak in undiluted form, hand soaking need last only about five minutes as opposed to 10 minutes for other soaks. Distilled white vinegar has also been shown to make polish last longer on nails.
Zesty Lemon
A popular and healthy citrus fruit, lemon softens cuticles and also makes nails stronger and whiter. It is an effective soak by itself and a foundation for a more nuanced soak. Combine the juice from half of a lemon with one cup of warm water. As an option, stir in one tablespoon of honey to boost hydration. Remember that if you have damaged nails or cuts on your fingers, the lemon may sting as you soak. Adding the honey helps temper that while promoting healing.
References
Writer Bio
LaMont Jones was an award-winning fashion and beauty editor for a decade at the "Pittsburgh Post-Gazette." A five-time nominator and judge of the CFDA Awards, he covers New York Fashion Week regularly. Jones is a 2011 inductee into the Pittsburgh Fashion Hall of Fame and coaches fashion models.
Photo Credits
Thinkstock/Comstock/Getty Images