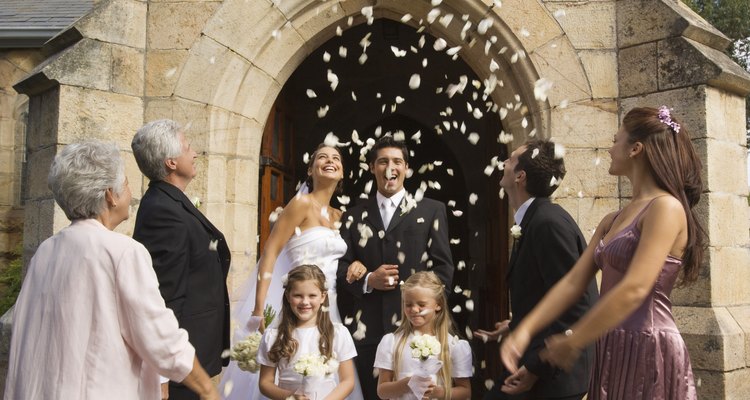 Jupiterimages/Pixland/Getty Images
A couple might receive more than 100 wedding cards when they marry, but you can avoid your card blending in with the crowd by taking a few minutes to write a memorable message. Don't let the card's wording do the work for you; by sharing your best wishes in a creative way, you'll give the happy couple an extra reason to smile after their big day.
Congrats and Best Wishes
Above all, your wedding card message should congratulate the wedded couple. If you aren't close with the couple, a formal greeting such as, "My sincere congratulations and best wishes on your special day," is suitable. An informal message, such as "I'm thrilled to see two of my favorite people get hitched," is acceptable if you know the couple well. Your message can also share an anecdote about a moment you shared with the couple and your wishes for their lives together. For example, you might recall the time you introduced the bride to her groom at a party, and then lightheartedly tell the couple you look forward to celebrating their 50th wedding anniversary down the road.
References
Writer Bio
Toronto-based journalist William McCoy has been writing since 1997, specializing in topics such as sports, nutrition and health. He serves as the Studio's sports and recreation section expert. McCoy is a journalism graduate of Ryerson University.
Photo Credits
Jupiterimages/Pixland/Getty Images