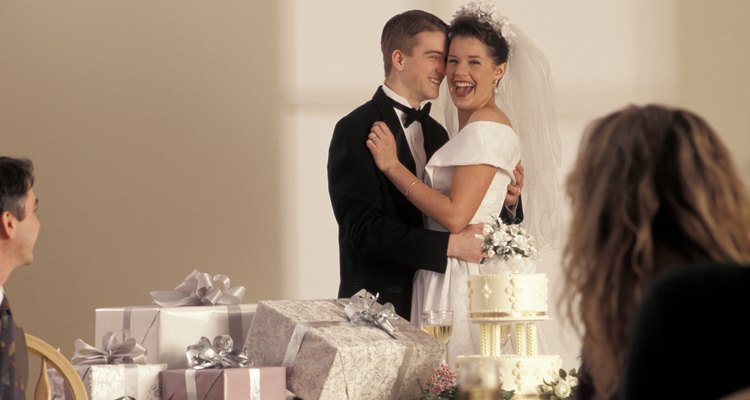 Ingram Publishing/Ingram Publishing/Getty Images
Wedding gifts are as customary as formal attire and cake, but it's not an etiquette violation to politely ask that your wedding guests abstain from giving gifts. You can get this message across with a carefully worded note on the invitations and by having those in your wedding party spread the word. Note, however, that many people truly enjoy buying wedding gifts, and it's possible you might still receive some.
Add an Invitation Note
According to wedding planning website The Knot, it's acceptable to express an intention that you do not wish to receive wedding gifts. You can share this message on the wedding invitations by writing something such as "Please, no gifts" on the bottom. Another approach is to use a playful sentiment, such as "Your presence is our present -- please, no gifts." If you're uncomfortable adding a note about gifts to the invitation, where it's often considered a faux pas to mention them, put it on your wedding website.
Reach Out to Guests
Because many people consider giving a gift part of the joy of attending a wedding, enlist the help of your wedding party to spread the news that you really don't wish to receive wedding gifts. People can share the message over the phone, by email or in person. Give the wedding party the reason you don't wish to receive gifts. Some people might lightly protest your decision, and knowing the reason for it can help them accept it.
Have a Backup Plan
Because some people won't easily accept that you don't wish to receive wedding gifts, have a backup plan to present to those who won't take no for an answer. If you truly don't want to receive anything, think of one or more charitable causes, either in your community or nationally, that you wish to support. When some insists on giving you a wedding gift, suggest making a charitable donation in your name.
Saying Thanks
Although most of your wedding guests will ideally respect your wishes, you might still receive some gifts from those who missed your announcement or chose to ignore it. For these people, it's still necessary to send a note of thanks to express your appreciation for their generosity. Wedding thank-you notes don't have to be lengthy, but should say thanks for the gift and specifically address how you'll use it to avoid the note having the feel of a form letter. Aim to send your notes within one month of returning from your honeymoon.
References
Writer Bio
Toronto-based journalist William McCoy has been writing since 1997, specializing in topics such as sports, nutrition and health. He serves as the Studio's sports and recreation section expert. McCoy is a journalism graduate of Ryerson University.
Photo Credits
Ingram Publishing/Ingram Publishing/Getty Images