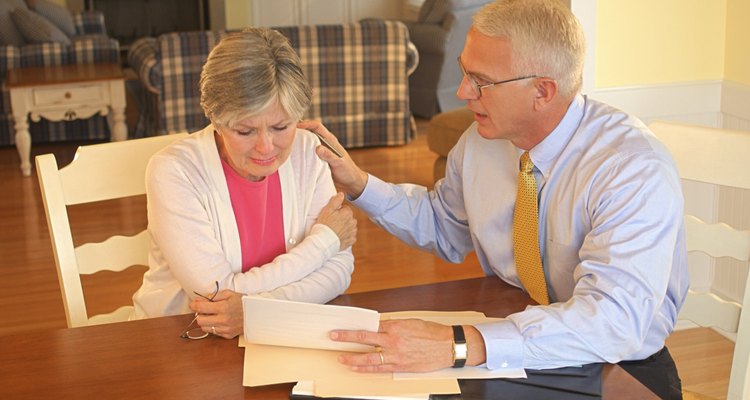 Jupiterimages/Comstock/Getty Images
Anyone compiling a family history or other research project may confront the problem of finding people who have died. Whether searching for a death certificate or creating a basis for finding other information about the person's life, the original search steps are similar. Use family and friends' stories and free public records to begin your search. After you have located the deceased, other resources, both free and commercial, can expand information about their lives. Be prepared to persist in your search, and enjoy the process of finding someone others may have wondered about and missed.
Gather the Basic Information
Assemble existing information on the deceased's full name and probable location at the end of life. Ask relatives and friends for pertinent information: his first and middle name if you have only a nickname (Charles Windham Smith, rather than Buddy), any occupational or membership information (an electrician and a Mason), his last known location (from Maple Street to somewhere outside Indianapolis) and an approximate span of years in which he might have died (he moved away several years after retirement because he was no longer able to shovel snow; his sister received a Christmas card in 1985). The stories of family members and friends all contain clues that will help in your search. Public record searches are often based on 10-year spans of time.
Look for Official Records
Directly contact the Office of Vital Statistics closest to where the deceased may have died. Usually records of birth, marriage and death are registered at both a county and state level. Often counties will transfer records after a number of years and refer you to the state. You may be required to complete a request on paper or online, state the reason you wish this information and pay a small search and copying fee. Many commercial companies will conduct a search for you; remember that you are likely to pay additional fees for their services.
Cast a Wide Net
Broaden your search to contiguous states, especially if the last known address was close to a state line. Someone last known to have been living close to the Washington/Oregon border in Washington may have died in either state, whether through moving or an accident. Death from an automobile accident, for example, will be registered in the state where it occurred, not the state where the deceased lived. You can also use possible memberships in national organizations to locate someone who died. Someone known as an active member of the Elks, American Legion or the Masons is likely to have transferred his membership to a local chapter. Contact a state chapter to determine how to search for information. A formerly active labor union member may have received benefits throughout his life. Begin with the local union welfare office or find national contact information through your library.
Genealogy Sites Can Help
Find free or commercial genealogical assistance online. Samples include the USGenWeb Project and the RootsWeb section of Ancestry.com. Free sites provide contact information for public record searches; commercial sites offer both contact information and additional help but charge for membership. Both will save you some time in developing contacts and may also put you in touch with others conducting the same or similar searches.
Get Social
Someone who's been dead for several years probably won't have much of a social-media footprint, though in some cases you can find profiles on older sites such as MySpace and LiveJournal. Still, social media can be a useful search tool. Look for mentions of the deceased person on occasions such as their birthday, Father's Day or Mother's Day, or around Veteran's Day or Memorial Day in the case of veterans. Look for the names of known relatives on social media sites, and contact them directly. For a "Hail Mary" effort, post a question about the person you're researching and ask people in your own network to share it widely. If the deceased person was active in a given hobby or interest - amateur radio, for example, or vintage-car restoration - you may be able to find old acquaintances through forums dedicated to those interests.
References
Resources
Writer Bio
Janet Beal has written for various websites, covering a variety of topics, including gardening, home, child development and cultural issues. Her work has appeared on early childhood education and consumer education websites. She has a Bachelor of Arts in English from Harvard University and a Master of Science in early childhood education from the College of New Rochelle.
Photo Credits
Jupiterimages/Comstock/Getty Images