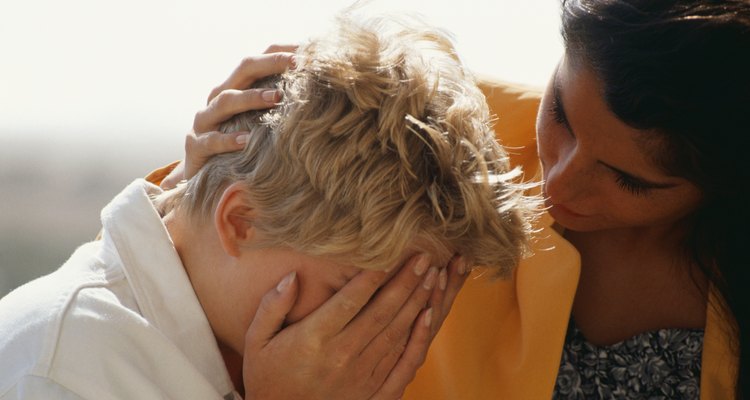 David De Lossy/Photodisc/Getty Images
Your sister is grieving the devastating loss of her husband. The bereavement process is different for every individual. How long it will take for your sister to move into grief recovery is difficult to predict. But you can definitely help her in her journey. In addition to grieving the loss of her life partner and companion, your sister will probably have to make major decisions about finances, living arrangements, and other big issues. You can be there to help her through the many stages of grief and support her in rebuilding her life without her husband.
Step 1
Be available by phone and in person if you live nearby. Your sister will experience a wide range of emotions and will need your support. Knowing that she can turn to you when she needs to talk will bring her great comfort.
Step 2
Encourage your sister to put off making any major decisions while grieving. She may need to make many important decisions that will have an impact on her financially. It is not uncommon that widows want to sell the house to avoid all of the memories of spouse there with them. But making these decisions during the initial grief when her thinking isn't as clear as it usually is can have long-term negative consequences.
Step 3
Encourage her to join a grief or widow support group. Often talking with others who are dealing with the same type of grief can be very therapeutic.
Step 4
If you have nieces or nephews, talk with them about their feelings about their dad's death. As the aunt or uncle you likely have a close relationship with them. Your sister will probably appreciate your help in this area because she may be too overwhelmed with her own grief to give the children all of the support they need.
Step 5
Help your sister with household chores and meal preparation. Ask her if she would like you to clean the house for her or prepare some meals. If you are short on time, ask if she'd allow you to hire a housekeeper to come over once or twice and clean the house. if you're not much of a cook, look for healthy, pre-prepared meals for her from a local health-consciousness market.
Step 6
Offer to help her sort through her husband's belongings when she is ready. Sorting through your brother-in-law's belongings will likely be painful for your sister because there are so many memories attached to them, so having you there to support her and listen will be a comfort.
Step 7
Help her to find ways to stay active. You should not push your sister to engage in activities but you should encourage her. Staying active will be a big part of the healing process. Suggest she go out with a few friends for lunch or to the movies. It will help reduce her stress levels.
Step 8
If she is prescribed medication, remind her to take it. People are forgetful sometimes when they are grieving. Also, they may lose the desire to take care of themselves after the loss of a spouse. So be sure to remind her to continue taking any prescribed medication medicines on a regular basis.
References
Writer Bio
Sonya Lott, Ph.D. is a licensed psychologist in Pennsylvania, who offers online and in office counseling to individuals struggling with grief, loss or a life transition. She also facilitates mental health workshops for educational, professional, and community groups and maintains a blog on her website www.drsonyalott.com.
Photo Credits
David De Lossy/Photodisc/Getty Images