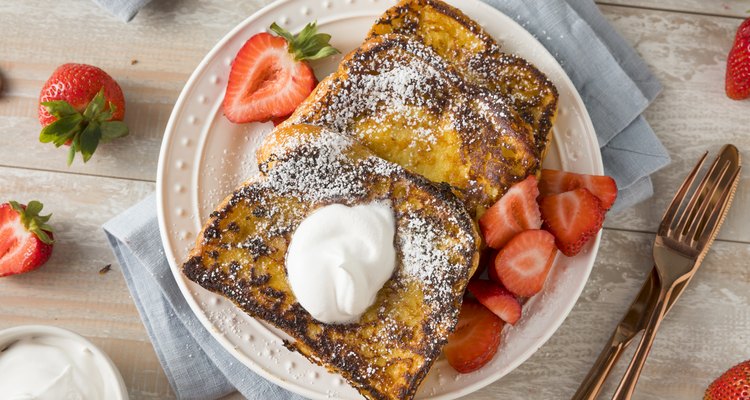 bhofack2/iStock/GettyImages
Make-ahead breakfast foods help you get a healthy start on busy weekdays without skipping breakfast, and they offer a laid-back, no-mess weekend meal. The next time you make French toast, prepare extra -- perhaps the entire loaf of bread -- and refrigerate or freeze what isn't immediately consumed. It keeps for several days in the refrigerator or for several weeks in the freezer, and a quick reheat produces an aroma that will bring the drowsiest sleepyhead in the family to the table.
Toaster-Oven or Toaster Method
Pause for a quick, hot breakfast even on a hectic morning. Simply place slices of prepared French toast in a toaster-oven and heat until crispy. You may prefer separating frozen slices on a plate while you shower or dress so they defrost slightly, then toast them. If your French toast slices are firm and not crumbly, you can also reheat them in a regular toaster. Clean the toaster crumb tray after reheating French toast, because the sugary crumbs scorch easily and may also smoke.
Stove Top Method
Heat a skillet or stove-top griddle to medium and give it a quick shot of cooking spray. Place leftover French toast slices on the pan and watch closely -- they'll be warm and refreshed after only a minute or so on each side. If the toast is soggy you can re-crisp the exterior by melting a bit of butter on the cooking surface and cooking at a slightly higher temperature.
Microwave Method
Your microwave can reheat refrigerated or frozen French toast in a snap, but restoring a crispy crust isn't always possible. Any time you reheat baked goods in the microwave there is moisture loss or condensation that softens the food. Minimize this by layering a paper towel on the plate under the French toast, then cover with another paper towel. Heat in short bursts of 15 or 20 seconds, checking after each. As soon as the toast is hot, discard the paper towels and add your favorite toppings to the toast for a one-plate breakfast.
Oven Method
Sit down to a family-sized platter of reheated French toast, straight from the oven. Coat a large baking sheet with cooking spray, then arrange French toast slices, leaving at least 1/2 inch between them. Place the baking sheet in a preheated hot oven, 400 degrees Fahrenheit, and watch the toast carefully, turning the pieces to crisp both sides. Frozen slices take about 3 to 4 minutes on each side, refrigerated slices less time. Use a convection oven option if you have one. The air movement in a convection oven distributes even heat that makes the coating crispy.
References
Resources
Writer Bio
Fern Fischer's print and online work has appeared in publications such as Midwest Gardening, Dolls, Workbasket, Quilts for Today and Cooking Fresh. With a broader focus on organic gardening, health, rural lifestyle, home and family articles, she specializes in topics involving antique and modern quilting, sewing and needlework techniques.